Digital marketing 101: Driving traffic and leads for your B2B business with The Brains
Welcome to the third instalment of The Brains' Digital Marketing 101 series. Previously, we've covered small businesses and eCommerce digital marketing, but in this blog, we'll be taking an in-depth look at how to drive traffic and leads to your B2B business.
What is B2B digital marketing?
B2B digital marketing is the process of advertising your products or services online to other businesses or organisations – It is distinctive from B2C as it is not directly targeted towards consumers. With this in mind, B2B marketing is often more direct and focuses more on ROI and profit margins than trying to appeal to buyers' emotions or impulses.
When planning a B2B marketing strategy, it's vital to remember that your target audience is often a corporate decision-maker who is more influenced by price than anything else.
Let's have a look at some distinct features of B2B digital marketing:
B2B buyers are primarily focused on the bottom line, and they will not purchase from you unless you meet their required needs. The buyer has to know that your product or service will increase their businesses output in some way. 

B2B business relationships are often more personal, with corporate buyers less likely to take risks dealing with new sellers, and prefer to stick with sellers they have a long-lasting relationship with. This will only usually change if a buyer can find what they're after cheaper elsewhere, or a problem arises within the working relationship.

This is a difficulty a lot of new B2B businesses face unless they have pre-existing relationships from past ventures. As a result, B2B digital marketing has to either focus on nurturing pre-existing relationships or work hard to create new ones.

B2B buyers can be a lot more demanding, forcing businesses to put more effort into their digital marketing strategies to build relationships and trust. B2b buyers are less inclined to purchase on a whim (unlike B2C), so it's vital that as a seller, you meet your buyer's needs early on!
What is B2B lead generation, and why do I need it?
Lead generation is vital for any B2B business – you cannot expect to survive without it. In short, it is the process of identifying your target audience and converting them into customers. 
Here are a few great benefits to lead generation:
Generating leads lets people know about your business. From there, you can begin to educate and inform potential customers about what it is you're offering. Reputation is a big factor in B2B marketing, so building leads early on gives you more chances to increase your brand reputation.

Lead generation is a major source of income for most B2B businesses as it gives you the opportunity to turn prospects into customers – which significantly impacts on ROI. So, any business looking to increase their revenue should definitely invest in lead generation services.

One of the best features of lead generation is that it allows you to get to know more about your potential customers – whether it's where they are located, what their needs are or what exactly makes them require your service or product. This information allows you to implement a digital marketing strategy that will increase sales and store valuable data for any future campaigns you have planned.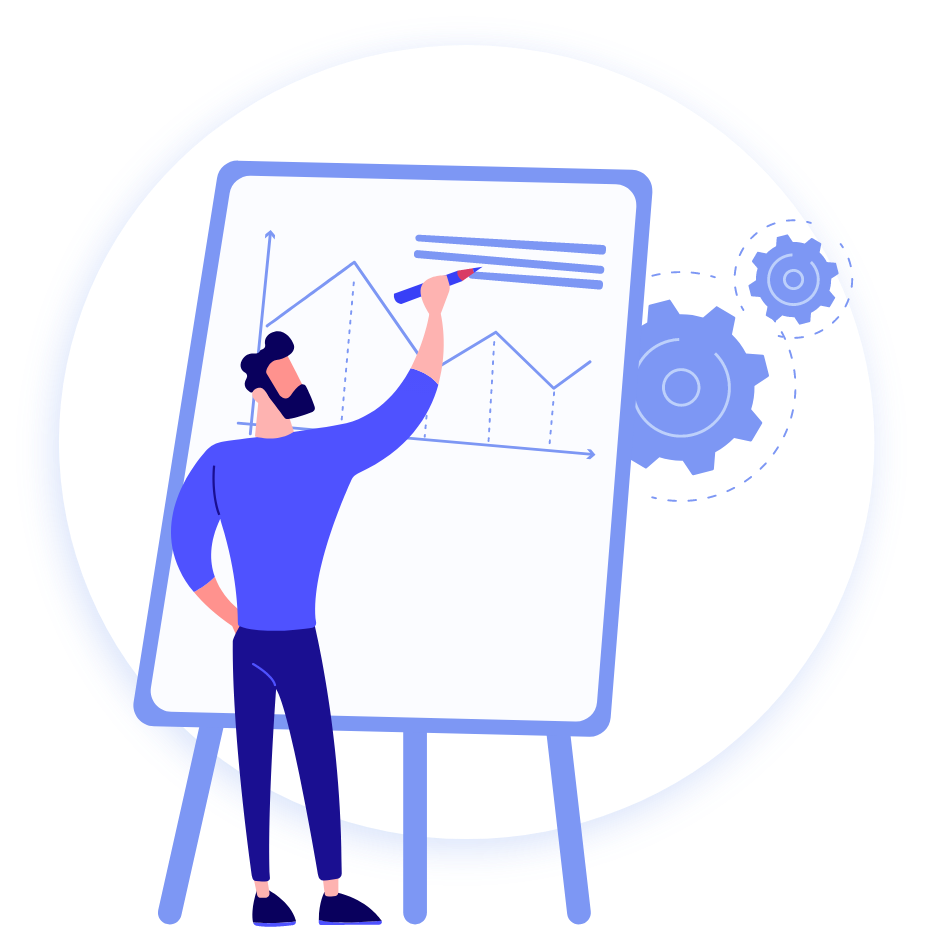 We cannot emphasise the importance of having a proper lead generation strategy enough. It doesn't matter how good your digital marketing strategy is; you cannot expect to bring in any revenue if you don't have good quality leads! At The Brains, we have developed a B2B lead generation formula that has proven to generate unlimited leads, unparalleled growth and huge cost savings.
If you'd like to have a chat with one of our experts about how our B2B lead generation formula works, drop us a message and we'll let you know how we can help! We're a leading B2B SEO agency that specialises in lead generation for B2B businesses.
Our digital marketing agency in London has what it takes
As one of the leading B2B search engine marketing agencies, we can guarantee we have what it takes to generate quality leads, drive revenue and create excellent returns on your ROI. We've spent years looking at the best ways to improve B2B marketing strategies so that we can promise our clients excellent results.
We have a team of dedicated B2B experts working exclusively with businesses to increase their lead generation and increase sales. In fact, one of our co-founders, Larry Koch, was listed as one of the '30 under 30 B2B marketing experts'. Larry has worked on many successful B2B digital marketing campaigns implementing his Leads On Tap strategy to help businesses generate unlimited leads, create long lasting visibility and of course increase their revenue.
Top tips for an exceptional B2B digital marketing strategy
Now that we've established the importance of defining a B2B audience and understanding their needs, let's look at some strategies in terms of reaching them and converting them into customers.
1. Invest in a good quality website

This might sound like an obvious suggestion, but you cannot underestimate the importance of having a good, user-friendly website. B2B buyers will come to your website to find out more about your business and the services of products you offer. So, you must optimise your key landing pages to make it easy for them to find the relevant information and make quick purchases.
2. Optimise your page for SEO
Once you've mastered your website, it's important to start optimising it for Search engine optimisation (SEO) so that potential buyers can find you before they find your competitors.
SEO requires you to do some keyword analysis to see the words or phrases that are trending in association with your product or service. From there, you can add your keywords to your content to help Google find your site. Although this might sound simple, there is no exact science to SEO, so it's worth hiring a specialist B2B SEO agency if you want to use your time effectively.
We offer a variety of SEO services to B2B businesses including:
3. Use social media marketing

Social media marketing isn't just for B2C! In fact, it's an excellent way for B2B businesses to find and connect with their target audience. Granted, most B2B businesses aren't going to be using Tiktok to target corporate buying teams, but using sites like LinkedIn can certainly help get your product or service noticed. 
4. Get started with PPC
Pay-per-click advertising works in a similar way to SEO, but it allows you to pay to jump to the front of the queue without having to spend time optimising your content. PPC can be a great way to maximise your ROI, especially if you have the relevant data for your target audience. That way, you can place your PPC ads directly in front of your prospects.
Our unique approach to B2B digital marketing
After years of experience testing different methods and strategies, our teams at The Brains have developed an approach to B2B digital marketing that has been proven to generate excellent results time and time again. We've helped many B2B brands achieve outstanding ROI, revenue and online visibility, and we have the data to back it up. Just head to our B2B content marketing page for more information, or browse our SEO content services.
Now that we've discussed the fundamentals of B2B digital marketing, let's see what our brainy experts have to say about planning and implementing a successful B2B digital marketing strategy.
"Focus on gaining good quality leads before doing anything else"
As a leading digital marketing agency, we can't deny the importance of lead generation. It's a common mistake for businesses to focus too heavily on their digital marketing strategy early on without gaining the right leads first.
Your strategy could be perfect, but if you don't have the leads, no relevant customers will actually be seeing your content. 
"Be wary – B2B and B2C are two different animals"
You might have a strong background in B2C digital marketing, but that might not transfer over to B2B as easily as you might think.
B2B buyers will not purchase on a whim, nor are they particularly interested in entertainment. They want reliability and ROI. It doesn't matter how well you package your product. If it doesn't benefit the business in some way, they will look elsewhere, leading directly to our next point…
"If you're new to B2B digital marketing, don't try to do it on your own"
We strongly recommend hiring an expert agency to help you. Otherwise, you could end up wasting a lot of money and time without getting any good quality results.
When choosing a digital marketing agency to work with, don't go with the cheapest option and expect to see results. Going with the most affordable agency will most likely end up costing you more money in the long run, as you'll be paying someone else to fix their mistakes!
At The Brains, we've helped countless B2B businesses create and implement B2B digital marketing strategies that have gone on to generate limitless quality leads and spectacular ROI's. We offer a variety of PPC, social, lead generation and SEO services specifically designed for B2B businesses.
If you'd like to have a chat with one of our experts about how we could help, or you'd like to know in more detail how B2B digital marketing works,  head to our B2B page to find out more.
Schedule your free initial consultation
Excited to get started with some B2B digital marketing campaigns? Contact our experts here at The Brains for top tips.
If you would like some complimentary advice, request a FREE consultation today!
Ready to schedule a free digital marketing consultation?