YouTube Shorts Vs TikTok: How Competition Will Impact Video Marketing Strategies?
Since 2005, YouTube has enjoyed its reputation as the leading video content platform. It produced the first social media influencers and had a revenue exceeding $28.8 billion USD in 2021. For any business looking to create a social media video marketing strategy, YouTube has proved to be the most lucrative and successful platform for nearing two decades – but there's a new kid on the block. TikTok has changed the way video content is produced and consumed, and in a bid to catch up, YouTube released YouTube Shorts. But, in the battle of short-form video content, what does this mean for the wider marketing strategy landscape?
YouTube has been on the video scene for 11 years longer than TikTok, but while it took YouTube over eight years to hit one billion users, it only took TikTok six. That being said, YouTube Shorts, despite only being unveiled in 2021, has more users than TikTok at present. There are currently more than 1.5 billion YouTube Short users, and TikTok isn't predicted to reach that number until the end of 2022 (Demandsage). So, with competition between the two extremely close and both platforms dominating the video world, what do you need to take note of when coming up with your next video marketing strategy?
Do you really need a social media video marketing strategy?
Before we dive head first into the TikTok vs YouTube debate, let's drill down on the basics of social media video marketing. YouTube has been around for a long time, but that doesn't mean businesses have been quick to incorporate it into their marketing strategy. In fact, a lot of businesses have only just started to add video marketing into their campaign approach. According to Wyzowl, 61% of businesses used video as a marketing tool back in 2016, compared to 86% in 2021.
TikTok was released in 2016 and became the most downloaded app on the app store in 2018, and it was during this year that there was an 18% increase in the number of businesses that used videos as part of their social media plans compared to the year before. Whilst this jump isn't necessarily directly attributed to TikTok, there are a number of reasons why more and more businesses are turning to video over other forms of marketing.
According to HubSpot, more than half of consumers report wanting brands to release more video content. Furthermore, 79% of consumers say they bought something after watching a video (Wyzowl), and 82% of all internet traffic globally is driven by video streaming and downloads. Furthermore, businesses that have a video marketing strategy report a 49% faster revenue growth rate compared to those that don't (WordStream). So, if you were thinking the YouTube Short vs TikTok debate is just about as relevant as Jar Jar Binks in The Phantom Menace, you couldn't be more wrong.
Ready to get started with TikTok marketing?
Talk to our social media experts today!
YouTube Shorts vs TikTok: What are the key differences?
If this is your first time dabbling in video marketing, or if you're simply looking for the best way to take advantage of video marketing, you're going to need to get to grips with the key differences between the two platforms.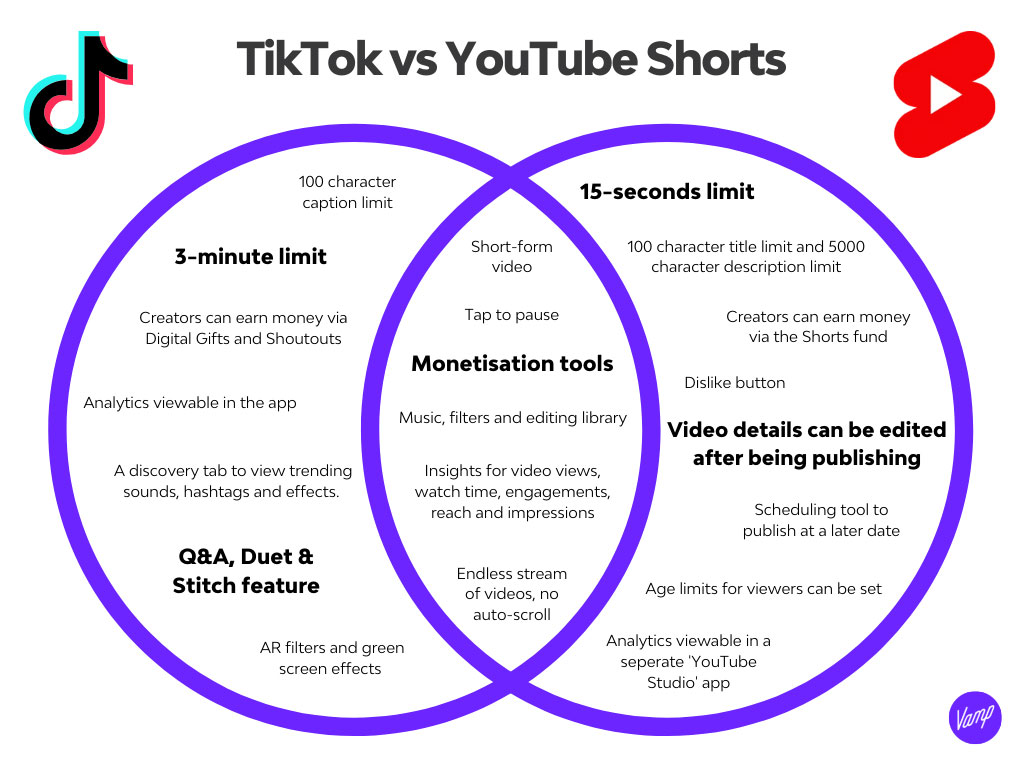 Demographic
The first difference between the two is the demographic. TikTok's demographic is 57% female, with around 43% of users being between the ages of 18 and 24. Whilst YouTube Shorts has tried to appeal to a similar age group, its audience is actually far more expansive. As soon as you log in to YouTube, you'll see YouTube Shorts on your homepage. This means everyone who uses YouTube (that's over two billion people) is exposed to Shorts, whereas only those with the TikTok app can watch the content on the platform. With this in mind, although the demographic for both is similar in theory, YouTube Shorts actually has a far wider reaching demographic through the main YouTube audience.
Content
The next key difference between the two is the type of content that is being put out, and this is interlinked with the demographics. TikTok has a primarily Gen Z demographic which means the content is more applicable to this age group. This could explain why only 3% of users are over the age of 55 – the content on TikTok simply isn't geared towards them.
On the other hand, YouTube has a primarily millennial audience, meaning the content posted on YouTube Shorts is slightly different. As a marketer, this means if you're thinking of putting together a marketing strategy, you'll need to factor in the type of content you're posting on each platform in line with your target demographic.
Ad placement
YouTube is a part of Google which means over the years, it's grown to have one of the most comprehensive and lucrative ad placement feeds. Whilst TikTok does allow for ads and has recently introduced TikTok Shop, YouTube still dominates the ecommerce side of video marketing with more sophisticated algorithms, better measurement tools, and a broader reach.
Reputation
Although TikTok is the fastest growing social media platform, it's still fair to say that some people see it as the Talonflame of the video world. Whilst it's decent in its own right, lots of people still prefer Charizard purely based on reputation. The same goes for YouTube – it acquired a lot of loyal viewers from 2009 onwards, many of whom still use the platform today and are more likely to stick to it than move over to TikTok.
Keep Up With The Latest Digital Marketing Stories.
Subscribe to our free monthly newsletter.
What do these differences mean for your video marketing strategy?
So, it's clear that YouTube Shorts and TikTok have some differences. Whilst YouTube launched its Shorts platform to wrangle with TikTok, the two don't have much in common beyond being short-form video platforms aimed at a relatively similar audience (in theory), so what does this mean for your video marketing strategy?
If anything, the introduction of more direct competition to TikTok means you need to diversify your strategy. What works on one platform won't necessarily work on another, so in the same way you take a different approach to Instagram and LinkedIn, you need to do the same for YouTube Shorts and TikTok.
Ads
Firstly, think about ads. As mentioned before, video content can be incredibly lucrative for businesses and ads are a great way to target your audience, but YouTube is more geared towards ads than TikTok. YouTube is the home of sponsored content and has been posting ads for years. Though sponsored content does occur on TikTok, it's certainly less ad-heavy than other social media platforms.
With this in mind, organic content is very much TikTok's niche. Whilst YouTube Shorts has marketed itself as a place where you can "go to start trends, try out a dance challenge, bring your hilarious ideas to life, and more" (the same as TikTok), it's mostly likely going to be adopted by existing YouTuber's who want to diversify their content on the platform. This doesn't mean you can't use it as a business – but it could be more suitable for more direct marketing as opposed to TikTok.
Production
Creating a video marketing strategy can be time consuming, and there is a question over how much effort you should pour into the production side of things. YouTube started out as ordinary people recording videos on low-end video recorders, but it's evolved into a highly versatile platform where some of the biggest YouTuber's hire entire production teams with the best equipment and editing software.
On the other hand, TikTok is famous for its lower quality videos – oftentimes the best videos are those where nothing more than a phone camera is used and the in-app editing software is employed. With this in mind, you can get away with lower-quality videos on TikTok, but YouTube has built a reputation for fancy production which is likely to leak into Shorts.
Content
With more competition comes the need to diversify your approach on every platform. YouTube Shorts is to TikTok what Twitter was to Facebook when it first came out, but times have changed. As society has become more fixated on social media, marketers have realised that people are using platforms differently. Sure, you might have members of your audience who are active on both Facebook and Twitter, but you know that in order to perform well, you should tailor your content directly to each platform.
The rise of video platform competition means you now need to begin to tailor your video content, too. Bear in mind the different audiences and expectations of each platform when planning out your content schedule in order to make the most of your output.
Final thoughts
Since 2016, TikTok has reigned supreme with its short form video content. YouTube Shorts is its newest and most direct competition, but the differences between the two platforms mean you need to re-think your approach to video content on social media as a whole.
If you're unsure about how to approach this angle of social media, or if you need help with harnessing the power of social media as a whole, our Brainy bunch can help. Simply get in touch to find out more.
Who we are
The Brains is an award-winning digital marketing agency, consultancy and training provider in London.
Our Brains are experts in their field, helping companies grow faster, generate leads and overtake competitors.
What we do
Our Brains can help you with everything from ongoing marketing to training up your internal teams.
Give us a call to discuss your needs.
Ready to schedule a free digital marketing consultation?