How to measure marketing performance
In this blog we'll be taking a look at the different ways to measure the results of your marketing campaign, and see what metrics you should be using as your performance indicators. We'll also be looking at unexpected results and how they can lead to long term benefits, such as lead generation, increased social media following, and reducing future marketing expenses.
Knowing how to measure the success of a marketing campaign isn't always straightforward – the metrics are constantly changing, the return on investment (ROI) might not always be immediately noticeable, and you sometimes end up with results that you weren't initially looking for but prove to be astonishingly beneficial. 
For instance, you might be trying to achieve an instant revenue boost with the launch of a product, but instead, your social media following grows. Whilst you might not have the immediate cash flow you were looking for, you now have a bigger audience to engage with on future campaigns.
Most digital marketers would consider this accidental growth a huge success, given the avenues a large social media following opens up. Such as:
The ability to nurture followers into paying customers for your products or services

The potential for collaboration with other influencers

The reduced costs from not having to pay to reach your target audience
You see what we're getting at here…
Knowing how to measure your marketing campaign results might not always be immediately clear, so it's important to be aware of the various metrics that can contribute towards success.
Different types of marketing campaigns and how they yield results
Given that the results of marketing campaigns can often be unexpected and also advantageous, let's take a close look at some of the most popular marketing campaign strategies and what benefits you might see from them. 
Social media
Whether you're a huge multi-national corporation or a small niche business, social media can have huge benefits not only on your revenue but also on your online visibility and lead generation. Not to mention the ability it gives your audience and customers to interact with you and find out more about your brand. For instance:
Social media allows you to tell your audience about your values and what ethics you stand for – while you might think that this could be divisive and could potentially split your audience, brands such as

Nike

have seen huge benefits from taking a stance on political issues. 

With Instagram Q & A's and Twitter polls becoming more and more popular, social media users now have the chance to talk to you directly and ask questions about the products or services you offer. Likewise, you get the opportunity to ask your audience questions, which gives you insight into what you can change for future campaigns.

By increasing your customer engagement, you are building brand loyalty – studies show

that customers who follow a brand on social media are much more likely to buy from them than their competitor.
Social media is arguably one of the most effective forms of marketing that most modern businesses cannot live without when it comes to marketing performance.
SEO
Some businesses feel that SEO isn't important and that customers will find their products or services through other means. However, whether you choose to engage with it or not, SEO impacts your business in various ways.
Most people use search engines to find a product or service.

By having a high search engine ranking, you communicate to your target audience that you are credible and trustworthy – search engines such as Google only give the top spots to websites they feel deserve it.

Optimising your website to make it easier to be found by search engine bots will mean that your website becomes more user friendly. 

SEO can be the best marketing tool for ROI if done correctly and can yield excellent results for years to come. However, if you're new to SEO, it's well worth investing in some professional advice from a professional SEO agency; otherwise, you can get bogged down trying to implement strategies that lead to poor results.
You will need a variety of on-page SEO services and off-page, link building services to drive organic results.
Email marketing
You might be quick to brush off email marketing as a cheap, spammy way of wasting a chunk of your marketing budget that leads to poor results. However, there's a lot of benefits to email marketing that often get overlooked.
The words 'cold email' might make you shudder and think of call centres ringing you up to ask if you require compensation. But alas, this is not the case! Cold emails can be incredibly advantageous if used correctly. Likewise, 'warm/ nurturing emails' can do wonders to help nurture existing leads and keep them informed about your business.
What are some of the different ways to run a marketing campaign and what results can you expect to see?
The number one way to measure marketing campaign results is always going to be return on investment (ROI). Whether it's immediate or whether it happens over a long period of time – every campaign's goal is to bring in more revenue.
However, judging ROI can be done in various ways depending on the type of campaign and what stage it's at. To get a better grasp of measuring ROI, let's look at some different types of campaigns.
Organic marketing campaigns
Much like the name implies, organic marketing campaigns are designed to increase revenue naturally over time through providing content that your target audience is looking for, rather than paying to have your content placed in front of your target audience like you would with PPC.
The most common ways to carry out organic marketing involve some form of SEO; whether through optimising your website, web content, blog posts, or articles, there are few better ways to drive organic traffic to your website than SEO. We offer a variety of SEO content services to create optimised content that drives website rankings.
However, some other ways, such as social media posts and email marketing, can also effectively direct organic traffic to your website.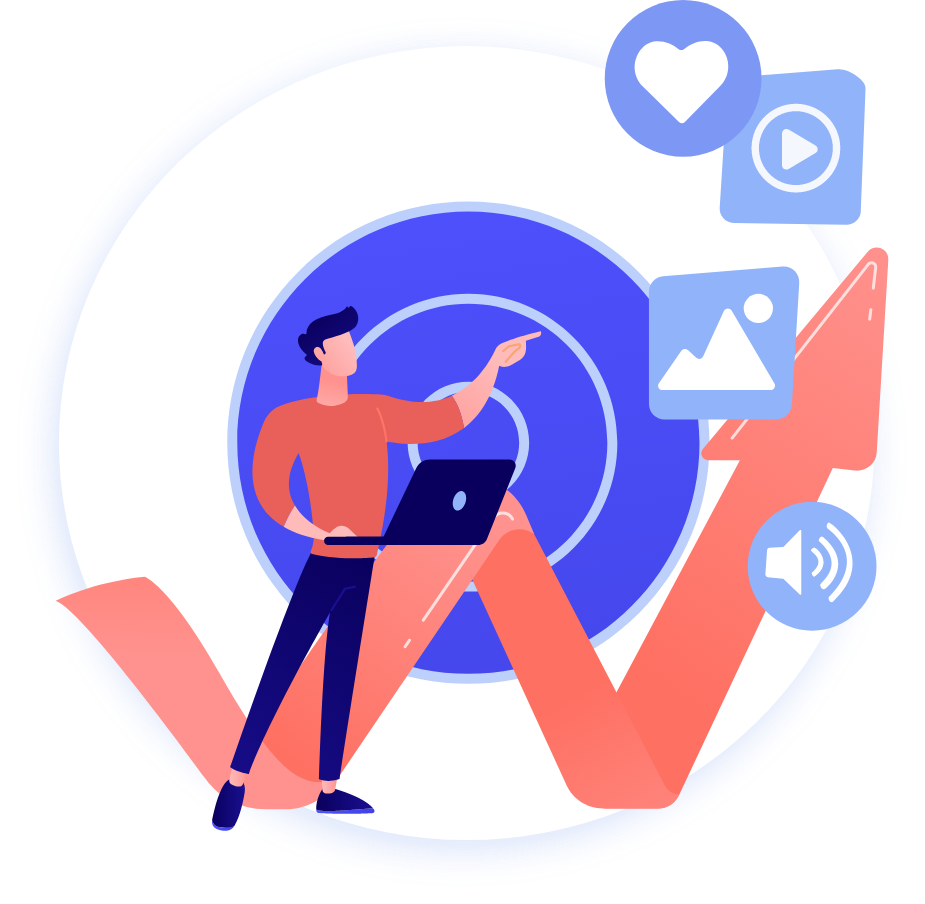 PPC campaigns
PPC, or pay-per-click campaigns, can be highly effective and yield excellent ROI. The process is simple: businesses bid on key terms and phrases to have their name at the top of the sponsored link section on a search engine, such as Google.
PPC is similar to SEO, but it doesn't require you to spend lots of time and effort optimising your website and content for people to find it on search engines. Instead, it allows companies to jump the queue and have their name show up first.
The best results a PPC campaign can yield is clicks and conversions – obviously you want people to make purchases, but even having potential customers click on your ads is a sign of success – the initial click has brought them to your website which means it has done its job. The rest is dependent on a variety of factors that will lead to conversions:
The look and feel of your website

The buyer's journey

Product or service pricing
Direct marketing
Direct marketing (much like the name suggests) involves contacting the purchaser directly to advertise your products or services. 
Common direct marketing practices include:
Emails

Calls

Fliers

Text Messages
Although some businesses choose not to use direct marketing out of fear of seeming 'spammy', it's not something that you should entirely rule out. If performed correctly, direct marketing can be highly advantageous and can be an excellent way of nurturing leads.
How do I measure the success of a marketing campaign?
Now that we know a bit more about the different types of marketing campaigns, it's worth taking a more indepth look at how to measure marketing campaign results.
Understand your lead generation…
Generating good quality leads is one of the best ways to gauge your marketing campaign's success, as it gives you a quantifiable way of measuring how many potential customers have transitioned into paying customers.
Good lead generation involves nurturing leads so that they become returning customers, which can be done by:
Using social media to interact with leads and advertise new products or services

Setting up email marketing campaigns to help encourage leads to return to buy your products or services

Targeted PPC ads based on the information you have already collected about your leads
… your conversion rate
It could be how many products you've sold or how many people you've got to sign up for your monthly newsletter. Either way, monitoring how many people have begun, or better yet, completed your buyer's journey is a great way to measure the success of your marketing campaign and can give you a great insight into how to better optimise your website. Conversion rate optimisation is a great way to measure marketing campaign results.
… your traffic and interactions
Whether or not you're getting conversions, the amount of traffic to your website is a good indicator of performance. You might find that your content is performing well, but your buyer's journey isn't up to scratch. Monitoring this allows for better overall visibility and continuous improvement when it comes to marketing performance.
Looking at your interactions is also a great indicator of how you're performing as a creator. It could be likes, comments, shares, mentions… whatever it is, it's usually going to be a good sign. Seeing more digital interaction means people are noticing and interacting with your content, which means it's making an impression and will hopefully impact your other metrics just as well. 
… your site rankings
If you're investing in organic marketing, your website rankings can give you a good idea about campaign performance. Depending on your goals, you will need to balance a mix of local SEO services and international SEO services to improve your local and national rankings – as the ranking of some search terms is dependent on geographical location. We offer a variety of SEO packages including SEO consultancy if you're ready to get started.
… your bounce rate
Whether potential customers are spending time reading your blogs, browsing your product page, or going through your web pages one-by-one, the longevity of a site visit is a great way to measure the success of a marketing campaign.
Measuring marketing campaign results at The Brains
Here at The Brains, we're laser-focused when it comes to results, and we believe in dissecting every bit of data we receive during a campaign to let our clients know exactly how their campaign is performing. We're a leading search engine marketing agency who specialise in SEO lead generation.
How do we do this?
Every campaign we work on starts with a workshop where we collaborate with our clients to figure out the goals and set realistic KPIs based on the budget available. At this stage, we can figure out the metrics we'll need to use to measure the success of each campaign. We can also determine which marketing channels would be the best for your goals and 
Once we have this information, we can then move onto the next stage. We do a deep dive into your target audience to find out who and where they are located, both geographically and digitally, and then look to see how best to market to them using the appropriate means.
After we launch a campaign, we keep our clients updated with detailed monthly reports to let them know if the KPI's are being met. This allows us to make the necessary changes to ensure continuous improvement.
Our clients can expect to see:
Unlimited lead generation

4 x ROI.

50% cost savings

Access to our brainy formula that combines creativity, data, and automation to achieve unbeatable results
If you're looking to know more about what metrics to use when judging the success of your marketing campaign or you'd just like to have a chat about how to get the most out of your next campaign, book a chat with one of our experts, and we'll fill you in on everything you need to know.
Schedule your free initial consultation
Excited to get started with measuring marketing performance? Contact our experts here at The Brains for top tips.
If you would like some complimentary advice, request a FREE consultation today!
Ready to schedule a free digital marketing consultation?