How to Create a Content Marketing Funnel That Actually Works
Your guide to a powerful content marketing strategy
Having great content is one thing, and it's another to have an understanding of your target audience — but without having an effective content marketing funnel in place to set up and manage your lead nurturing process, you're going to be missing out on some serious revenue!
Here at The Brains, we work with clients to produce bespoke content marketing funnels that have proven to generate high-quality leads and fantastic ROI. So, in this blog, we'll be revealing the secrets to creating content marketing funnels that actually work. Let's get started!
How to Create a Content Marketing Funnel: Quick Start Guide
Need help with your content marketing?
The Brains is a specialist content marketing agency that builds highly effective marketing strategies for clients across various industry sectors. Get in touch to find out how we can help you grow faster.
What is a content marketing funnel?
The concept of a content marketing funnel is relatively simple. It refers to the process of nurturing prospective customers through different stages of the purchasing journey towards a conversion using a very basic formula, starting with the awareness stage, then to the education stage and ultimately leading to a purchase.
Much like a physical funnel, a content marketing funnel starts with a wide berth of potential leads and ultimately bottlenecks to just a few SQLs (sales-qualified-leads). This is a natural process, and it's to be expected that only a select few potential leads become paying customers.
However, depending on your industry and the types of products or services you offer, the length and complexity of your content marketing funnel will differ. For example, if you sell plain t-shirts, your content marketing funnel might be fairly short, and your customers might not take that much winning over before they commit to a purchase. In fact, often, they might just buy on impulse.
On the other hand, if you're a B2B business that provides software that costs upwards of over a million pounds, your marketing funnel will be much longer, and you will more than likely have to appeal to multiple decision-makers. In which case, the types of content you produce will be much more varied and will have to cater to a lot of unique stages throughout the marketing funnel.
At The Brains, we work with a number of industry-leading B2B clients to create conversion-driven content marketing campaigns, and we often find that it takes a blend of multichannel content marketing strategies to produce results. For instance, we often produce lots of educational content early on rather than sales-driven and potentially scaring off new leads.
Although most content marketing funnels all follow a similar formula, it's fair to say that no two content marketing funnels are the same. With each new campaign, you have to create a new funnel that caters to the unique needs of your target audience.
How do content marketing funnels work?
As previously mentioned, content marketing funnels work by bringing in new leads and nurturing them through a customer journey using various content marketing strategies. In short, most content marketing funnels can be broken down into three core stages:
Awareness stage
Education stage
Decision stage
Although all funnels are unique, these three stages are the backbone of any successful content marketing funnel.
The Awareness stage

is at the top of the funnel and focuses on helping new leads to discover your brand. Content at this stage will generally be blog posts, social media posts, videos and podcasts. Typically, content at the top of the funnel won't have many mentions of sales and will focus solely on helping your prospects become familiar with your products or services.

The Education stage

is in the centre of the funnel and focuses on engaging leads looking to find out a bit more about your brand and what you have to offer. Leads at this stage aren't ready to commit to a purchase and are most likely looking at your competitors to see who can offer them the best solution.

The types of content at this stage will focus on building trust with potential leads, so it's essential not to be too pushy and look at making conversions too early on – the aim of the game here is to show why they should go with your business rather than someone else's.
The Decision stage

is what it all boils down to — the final conversion. Your leads are ready to choose who they will purchase from at this stage, so it's vital that you hit the nail on the head or else all the previous stages of the funnel will amount to nothing. However, it's equally important to be patient — going in for the hard sell can often be the downfall of a content marketing campaign, so you should look at setting up a consultation or a trial to finally seal the deal.
The importance of the buyer's journey
You cannot underestimate the importance of the buyer's journey. Remember, it doesn't matter how good your product or service is – if you don't provide your prospective clients with a seamless buyer's journey that caters to their unique needs, you're going to be missing out on conversions.
Think of it as buying a new car. You go to the showroom, and you see the exact model gleaming in the front window, and you know it's the perfect car for you. But when you speak to the sales assistant, they blank you and walk in the other direction. Suddenly, buying that car doesn't seem so appealing – in short, your buyer's journey has been ruined.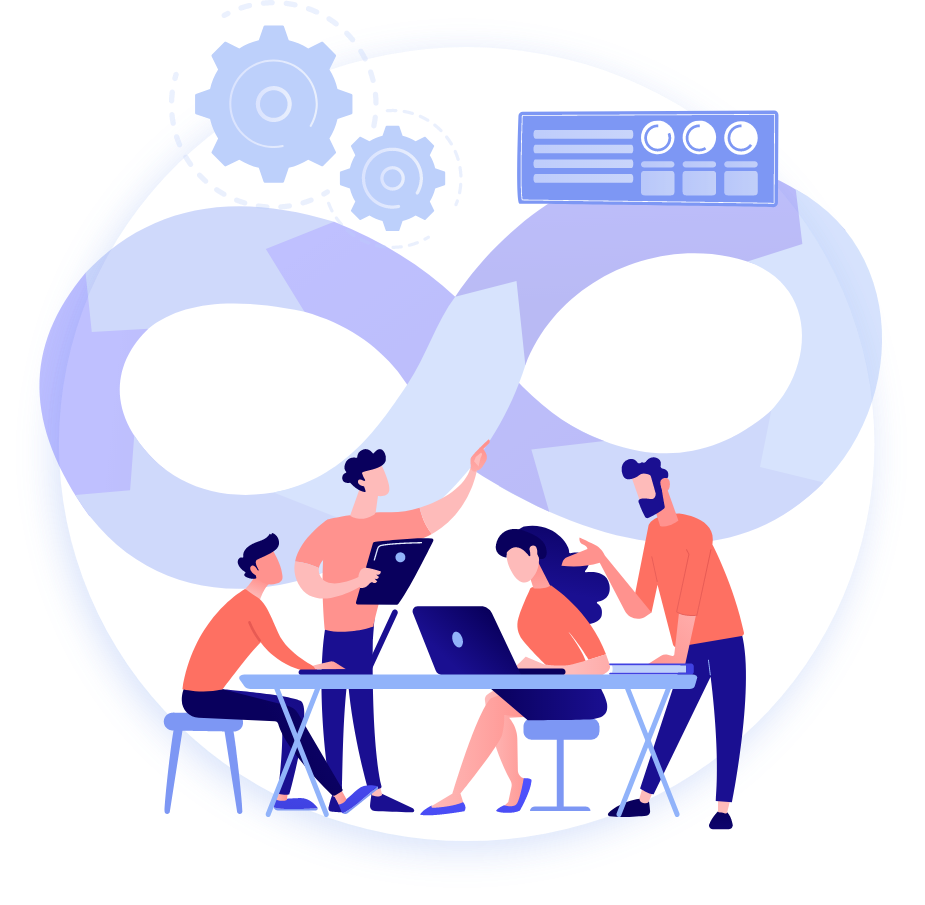 Likewise, when your prospects go in search of your services and products, it's not just a case of sticking some listings on your website; you have to draw them in and nurture them before they commit to a sale. Often prospective clients aren't sure right away what they want or why they want it, and it's the role of the buyer's journey to change that.
For instance, your prospects might need your products or services to solve a problem, and no doubt you have competitors who offer something similar that can solve their problems just as well as you. In which case, it's your job to convince your prospects why they should go with you and not someone else.
To do this takes a deep understanding of your target audience and knowing:
Who they are

The problem they are looking to solve

What their motivations are

What their online habits are
To attain an even deeper understanding of your prospective customers and provide a first-class buyer's journey, consider creating marketing personas, which allow you to build fictional portfolios of people who will have an interest in purchasing from you. By using personas, you can create effective content marketing strategies to nurture your prospects towards a conversion.
What you need at the awareness stage of the content marketing funnel
The types of content you produce in the awareness stage should focus on generating interest in your company. Think of the awareness stage as your shop window — the aim is to present yourself well enough to bring shoppers into your store. It's important to remember that your potential leads might have no idea about your company, so you need to focus on introducing your brand to them at this stage of the funnel.
To do this, consider why your prospects are looking for your products or services in the first place — more than likely, they have a problem that they're looking to solve. In which case, you should focus on creating content that displays how you can help them and also helps you demonstrate your industry expertise. 
One of the best ways to do this is by creating blogs that focus on answering a question. For example,  if you sell pianos, you could create a blog titled "How to choose the right piano for beginners". Not only does this help answer their question, but it will most likely correspond with their search intent.
Studies show that up to 70% of new leads enter the marketing funnel through organic search, so basing your content at the awareness stage around an effective keyword strategy is a great way to attract new leads. 
Another effective way to bring in new leads is by utilising social media advertising. Studies show that up to 3.81 billion people around the globe actively use social media, and a large portion of that use social media to a product or service they're interested in. The beauty of social media is that you can use it in almost all content marketing funnels; whether it's B2B, eCommerce, fintech, Saas, or healthcare, you can be confident that your prospects will be active on at least one form of social media. 
What you need at the education stage of the content marketing funnel
By this stage of your content marketing funnel, the number of leads will be much less than you originally started with. However, the leads that have made it to this stage will be interested in finding out more about your business, which provides you with some unique opportunities to help educate and move your potential leads closer to a conversion.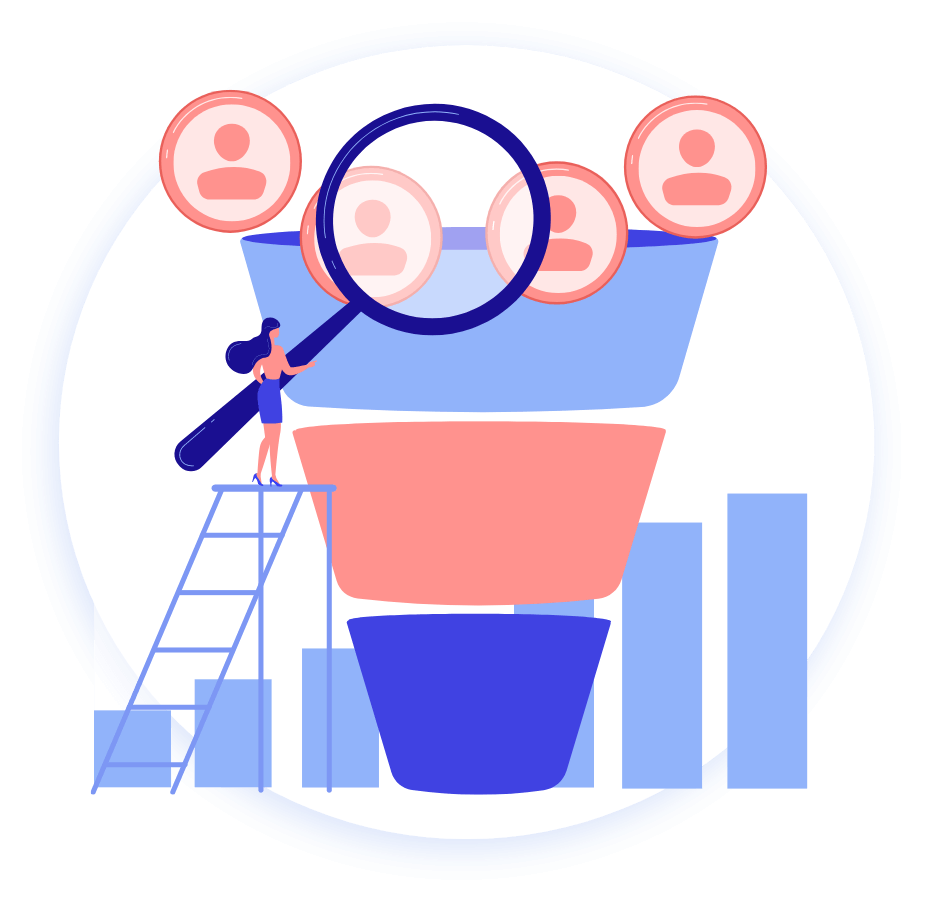 Your leads now know that they have an issue that needs solving and will be researching different solutions. As a result, the types of content that you produce at this stage should focus on educating your target audience and producing things such as "how-to guides", case studies and product overviews. The detail you provide with this content will go a long way when your prospects make a decision further down the line. For example, if you can provide quantifiable data on why your product can help save your prospects money whilst also solving their problem, this could help sway their final decision.
In addition to educating your audience, you should also be focusing on engaging them and maintaining their interest. A proven way to do this is by creating email marketing campaigns that provide prospects with unique pieces of content and also allow you to send follow up messages.
Email marketing also allows you to add a touch of personalisation which helps further build trust and establish a relationship with your prospects. It's important to remember that your prospects want to feel valued, and by spending time to build relationships, you put yourself in a better position to achieve the final conversion.
What you need at the decision stage of the content marketing funnel
Leads who have made it to this stage of the content marketing funnel have collected all the information they require and are looking at choosing a vendor. This stage is what your content marketing funnel has been leading towards, so the content you produce must be laser-focused on generating that final conversion. At this stage of the marketing funnel, you can now begin to detail pricing and payment options, as this information will be a huge deciding factor for your leads.
Given that your leads already have a large amount of information regarding what they're looking for, you can get very specific and go into great detail about your product or service and why it should be your prospective leads first choice. A good move is to create case studies that demonstrate how you've helped customers in the past.
One of the main advantages of case studies is that you can include infographics, stats, and graphs to really showcase the benefits of your product or service. In addition, you can also include customer testimonials to help provide proof of how you can solve your client's problems.
Last but not least, you can now reach out to your prospective leads and contact them directly to answer any questions they may have. Often marketers think that this approach can appear too forward, but with the right approach, you can clinch the conversion and get the sale over the line.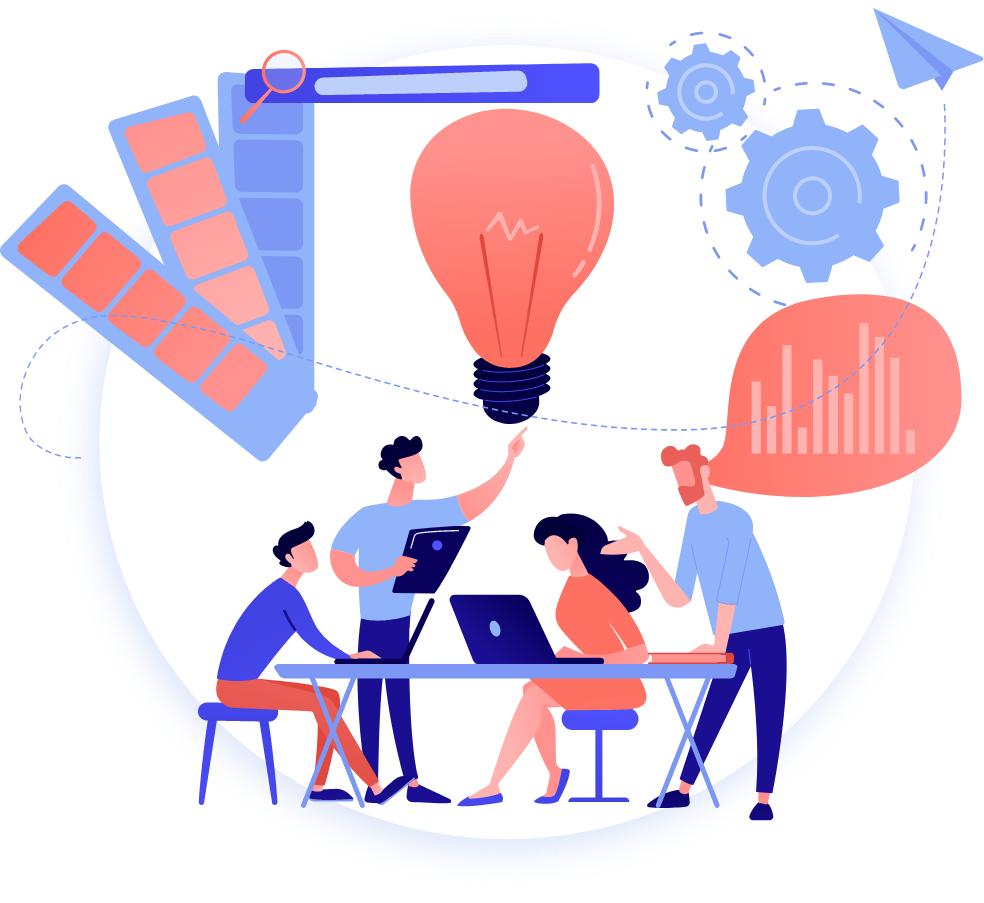 Streamlining your content marketing funnel: The Brainy way
Here at The Brains, we take content marketing incredibly seriously and we've spent the past several years helping clients create laser-focused content marketing funnels designed to increase traffic, generate unlimited high-quality leads, and maximise conversions.
To do this, we start by looking at your target audience to see what types of content will move your prospective leads through the content marketing funnel with the end goal of generating a conversion. We also look at your target audience's online habits to see which channels and platforms will be best to reach them. Whether it's through SEO, PPC, social media advertising, email marketing, or any other digital marketing service that we offer, we're committed to maximising our clients' budget to generate the best ROI possible.
As a full-service digital marketing agency, we're channel-agnostic, which means that we often implement multichannel marketing strategies to help our clients achieve their business goals.
Hire A Specialist Content Marketing Agency
If you're looking to create content marketing funnels that guarantee to attract high-quality leads, boost conversions and increase your revenue, choose The Brains. We've worked with hundreds of clients from a vast number of industries to create laser-focused content marketing funnels that have produced unbeatable ROI. 
We always work transparently with all of our clients to ensure that we have shared goals, KPIs and metrics, and we also provide regular reports so that our clients know how their campaigns are performing at all times.
​​If you'd like to know more about the wide range of digital marketing services that we offer or you're interested in finding out we can improve your current content marketing strategy, why not book a free complimentary consultation with one of our content marketing specialists and we'll help you get the ball rolling!
Ready to schedule a free digital marketing consultation?