7 Digital Marketing Examples that Have Boosted Leads
Digital marketing is one of the most effective ways of reaching new customers and converting leads. With increased targeting capabilities, greater levels of control and opportunities to create tailored content that perfectly suits your audience, it should be a priority for anyone looking to boost their leads.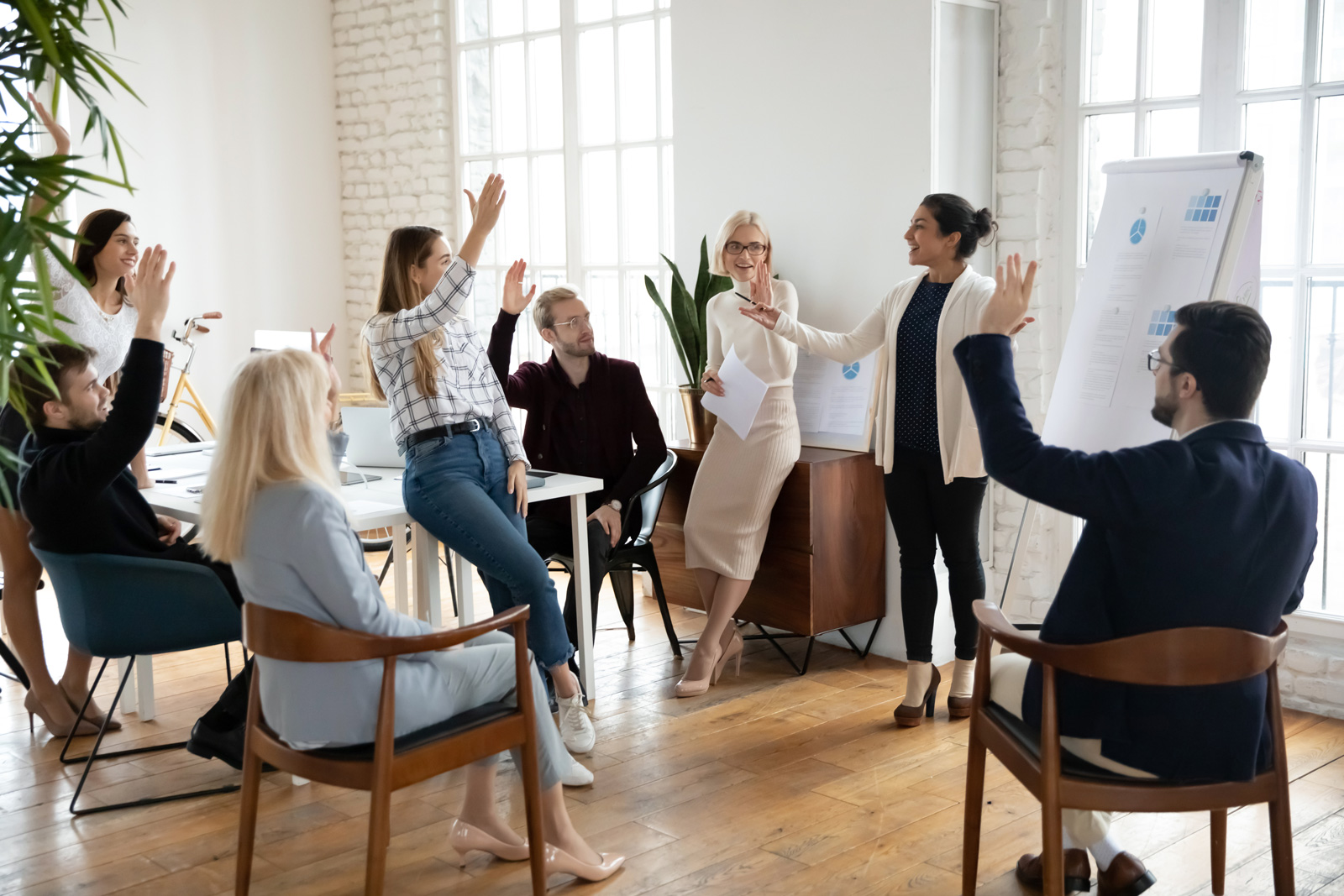 If you're looking for inspiration for your digital marketing campaigns, we've got you covered. We'll take you through some of our favourite digital marketing examples that have boosted leads that you can use to inspire your campaigns for the year ahead.
Why Is Lead Generation So Important for Marketers?
Generating leads is one of the most important parts of any marketing strategy; it's your way of converting your prospects and growing your business. However, it's not always a numbers game. There's a big difference between getting a huge amount of leads through email signups or questions on a form, and getting high-quality leads who are likely to bring you good business. Any guesses as to which are the most important for marketers?
Lead generation is a lot about building a relationship with prospects. You want to build the awareness of your brand while also demonstrating that you're someone they can trust. Whether you're a fashion brand or a building maintenance contractor, generating leads by expanding your relationships is the most effective method of growing your business.
Digital Marketing Examples For Your Next Lead Gen Campaign
With lead generation playing such a key role in marketing strategies, you want campaigns that are almost guaranteed to boost your leads. The most effective digital marketing examples we'll give below all focus on providing free resources of value – following the Inbound Methodology popularised by Hubspot.
In demonstrating your knowledge and expertise by simply giving it away, you're positioning yourself as a brand or business that your prospects can trust. The more content and resources you're able to produce, the more these prospects will keep coming back; those that come back are often highly qualified leads. They've shown an interest in your offering and repeated engagement with your content helps to build brand awareness and primes them for purchase.
Below, we'll explore 7 digital marketing examples that have boosted leads that you can use to inspire your next campaign.
1. Use Video to Educate Your Prospects
Education is one of the best strategies for engaging prospects and boosting leads. Customers value information. They need to develop an awareness of what your product does and trust that your business is knowledgeable within the space. Video is one of the most effective ways of doing this.
Using video to educate prospects and customers can work in 2 ways, but we recommend that you employ both of these strategies in order to feel the most benefit. The first strategy is to create valuable informational content such as tips or demos that don't rely on your product or service. For example, if you sell video editing software, you might create short tutorials on how to set up your recording equipment at home, or optimising content for YouTube. These kinds of topics relate to your business, but they don't rely on your product. You're giving prospects something of value for free, which should keep you front of mind whenever they need guidance, as well as when they are ready to purchase video editing software.
By providing these tips and guides, you're demonstrating your knowledge within your sector which helps to build trust with your audience. They begin to see you as a reliable source of information; kick-starting a nurturing loop that sees them coming back for new content time and time again.
The other way of using video as part of a lead generation strategy is by creating short and easy-to-digest video content. Attention span is one of the biggest barriers for marketers: trying to attract customers in just 8 seconds is a difficult task. Video content is a brilliant attention-grabber, which means it's a great way to attract prospects and bring in new leads. Pull out your key USPs or product features for short, individual videos that can be used both on-site and other marketing channels such as social. Again, these videos then serve as an educational tool for your customers: they're able to quickly and easily discover your business and its offering, helping to turn curious visitors into high-quality prospects and even leads. Be careful here, however: there is a distinction between pure sales videos and videos designed to teach customers more about your product features and how things work. Here, we're specifically interested in small demos of individual tasks, for instance.
Using both kinds of educational video is a great way to boost your leads by building up trust with your prospects so that by the time they're ready to convert, you're already front of mind, and they trust you to be able to deliver.
2. The Power of a Buzzfeed Quiz
For a short period in the mid-2010s, Buzzfeed took over the internet with its addictive personality quizzes. While they don't seem like the obvious choice for a modern digital marketing strategy, they can be quite a powerful engagement tactic and a great way of generating leads.
A great example of using quizzes as a digital marketing strategy is for retail, specifically in homewares or electronics. Customers might not always know exactly what they want for their homes or the specifications they need from an electronic device, which puts brands in the perfect position to offer help. Let's take one of the more confusing home improvement sectors as an example: Smart Home.
Consumers are often interested in smart home technology, but they don't necessarily know exactly what they need for their homes. A quiz that asks prospects about the number of rooms they want smart home devices in, what they want their smart devices to be able to do, the preferred stylings and so on can enable you to give personalised responses that are tailored to a prospect's needs. You can present a list of products that would suit their unique needs, which means they have a shopping list ready for when it's time to convert. Having provided them with guidance so they can get the right devices for their home, you've built up a level of trust that makes it more likely that they will come to you to fulfil their order. By empowering prospects through an engaging strategy like a quiz, you can be sure that you're generating leads with a high propensity to purchase.
3. Providing Value with Downloadable Resources
Generating leads in the B2B space, in particular, can be a difficult task. In competitive spaces, it's often hard to stand out from the crowd and showcase your business's unique skills. One of the most effective ways for B2B businesses to draw in new prospects and generate leads is by creating valuable resources that can be downloaded and used to improve processes to learn a new skill. For example, a building maintenance contractor might create checklists or templates that building owners can download and use to manage their own facilities maintenance. Smaller business owners might download these resources so they can stay on top of their maintenance requirements in the short term, but will then remember that contractor when they decide to outsource these activities.
You can even take this a step further by gating these resources. Ask prospects to input an email address, name and company, for example, and you can begin retargeting interested parties through nurturing email campaigns and so on. Not only do you have a list of leads ready to go, but you can also continue to work on converting them in a targeted and relevant manner.
Both live and downloadable content can be great for both lead generation and SEO rankings! Check out our SEO copywriting services for more support with this.
4. Get Chatty with a Chatbot
Sometimes, prospects and customers have a question they need answering quickly, or else they need help finding specific information on your site. Chatbots have seen a rise in popularity over the last few years, thanks to their ability to automate certain customer-facing tasks and improve user experience. When prospects have a question or are looking for a specific piece of information, chatbots can help provide answers quickly and easily. On top of this, chatbots can also be used to qualify new prospects and gather email addresses automatically, so information can be passed on to relevant members of the sales team once it's been established that a prospect is interested. This data can also be used to funnel prospects to the most relevant area of the site, increasing the likelihood that they will convert.
Chatbots are fantastic automation tools in general, but they're also a great example of how improving the user experience and clearly signposting your content can help boost your lead generation. If prospects can quickly identify where answers to questions might be or where they should be looking on-site, they're in a much better position to know whether a business is right for them. Good user experience, more often than not, results in higher quality leads.
5. Perfect the Art of the Newsletter
Newsletters can be a controversial topic for digital marketers. While some swear by them as a tool to keep your audience engaged, others worry that they just end up in spam folders or deleted without being read. In terms of engagement, nurturing and lead generation, newsletters can prove a handy asset to have – when they're done effectively. But how do you perfect the art of the newsletter?
The first thing is to consider how you are creating your email list. Some marketers will simply include every email address they have in their mailing list, but this has a tendency to become spammy and untargeted. The more nuanced way of developing this list is by having a specific newsletter opt-in that explains the type of information they should expect to receive. While this means that you might have fewer people on your list, these people are actively interested in the content of the newsletter. They knew what they were getting access to, and they gave their consent to be emailed (note, this will also help avoid any issues with GDPR).
Secondly, pay particular attention to the people you want to target and the kind of information they'll be interested in. Many marketers see newsletters as an opportunity to shout about their achievements and latest blog – but consider whether this is actually the kind of email a prospect or lead would actually read. You might find that a blend of your content and other sources is more impactful: positioning yourself as the source for busy finance professionals to get their news. Providing relevant, engaging and interesting information on a regular basis through a periodic newsletter is a fantastic way of generating leads who trust your business as a source of information.
6. Spice Up Your CTAs
When was the last time you thought about your CTAs? Most likely, when you added them to relevant pages. However, crafting compelling CTAs is one of the best digital marketing examples for boosting leads that you can try quickly and easily. Spend some time optimising your CTAs so that they're short, sweet and designed to speak directly to your audience. Inspire a sense of urgency with phrases such as "while stocks last" or "sign up today" and make your offer too good to miss. In short, if you want to boost your leads, you want to make your CTA buttons so attractive and so clear in terms of the action you want prospects to take that clicking that button is the most obvious thing to do.
7. Expand into Digital PR
We've talked a lot about how demonstrating your expertise is a crucial aspect of boosting your lead generation efforts, but this doesn't all have to be done in house. In fact, building a digital PR strategy can be an incredibly impactful way of boosting your leads, because you're pushing your brand and your name out further than your normal sphere of influence. Guest posting on blogs and having your comments included in think-pieces will introduce your brand to people who haven't ever heard of you yet. In terms of lead generation, this awareness is incredibly valuable: you're introducing yourself to new customers with the added benefit of an endorsement from a brand they already trust.
You can work with a digital PR agency or a link building agency like The Brains to help you succeed in this area.
 Lead generation is hugely important to marketers, and with these digital marketing examples, you should be well equipped to begin developing a digital marketing strategy that will drive leads for your business. With the help of digital marketing agencies like The Brains, you can get a deep dive into your audience's behaviours and interests so that you can create the most effective content for that segment. We're one of the UK's leading PPC, lead generation and SEO agencies – get in touch with one of our Brainy team today for a free consultation.
Ready to schedule a free digital marketing consultation?