Intermediate Social Media Training:


Learn Intermediate Social Media with The Brains
Ready to improve your social media marketing skills and boost the ROI of your campaigns? The expert advice in this intermediate guide will help you generate more revenue, leads and sales from your social campaigns.
5,106 Words Till Next Level
Introduction: Beyond the basics with social media marketing
Social media is becoming more useful for marketers by the day. Users across platforms are increasing, data is becoming more accessible and even small business owners and freelancers can use social media to build complex marketing campaigns. However, with an over-saturated market, it's becoming increasingly important to adopt more advanced strategies in order to stand out from the competition and use social channels as a real driver of conversions.
So, to help you learn how to improve your social media marketing skills, we'd love to share with you some of the tactics our Brainy social media team here at The Brains use daily to boost client ROIs and build award-winning campaigns.
In this intermediate guide, we'll go beyond just the basics covered in our basic social media marketing guide and cover our top social media marketing tips, including:
Why using a differentiated channel strategy is so important and how to start planning one
How to use automated scheduling tools to streamline your processes
How to choose and measure the right metrics based on your marketing goals
Why you should be having a two-way conversation with your followers
How to build strong and mutually beneficial brand partnerships
How to begin planning a keyword and hashtag strategy
How to plan and create dynamic social media content that drives likes, clicks and shares
Need expert support with your social media marketing?
Book a free consultation with our Brainy experts.
If you'd like our social media marketing Brains to review your campaigns and help you improve performance, give us a call. We'll provide a free consultation to help you boost results.
Chapter 1:
Using a Differentiated Channel Strategy
When it comes to social media marketing, a differentiated channel strategy is essential. It's what allows you to reach more customers, take advantage of different social media platforms and spread your digital reach across the web.
What is a differentiated channel strategy and why is it important?
A differentiated channel strategy means developing a unique marketing strategy for each social channel you use for your business.
The reason you'll need to use a differentiated channel strategy in your social media marketing is, quite simply, because the strategy that drives results on one social media platform may not drive results on another. This is the case for three key reasons:
1. Each social media platform is designed for a specific user base. For example, LinkedIn is created for working professionals who use the platform to showcase their career highlights, apply for jobs and consume commercial content. Whereas Pinterest, in contrast, is a visual platform that allows users to browse and 'pin' images, and is used largely for lifestyle and creative purposes by its users.
2. Each social platform favours a different type of content. For example, Twitter uses short-form tweets of up to 280 characters, whereas TikTok is a video-based platform. So, you can't expect to post exactly the same content across all channels.
3. At the end of the day, social media platforms are businesses – most of which are competing with one another for accounts and digital space. This means they're often reluctant to send their users to competitors – they'll do everything possible to keep their users in one place, often making it difficult to share content seamlessly across multiple platforms.
Social Media  Demographics
In order to dig deeper into how to develop a differentiated channel strategy, let's look at some of the key features of each platform as well as some statistics about the demographics of their users. This will help you to understand where your audience might live online and the type of content they like to consume.
Facebook
'Infotainment' content with a mix of visual and textual posts and also Facebook Stories with short content which expires after 24 hours.
57% of Facebook users are male.
Male users between 25 and 34 are the largest demographic of Facebook users.
98.5% of Facebook users use a mobile device to access the platform with 81.8% of users exclusively using a mobile device for Facebook use. This means you'll need to put a lot of emphasis on formatting content for mobile use.
Pinterest
Designed for visual content such as images and infographics.
Most common Pinterest content surrounds lifestyle topics such as fashion, design and recipes.
Used by a predominantly millennial audience.
Twitter
Short Tweets of up to 280 characters as well as images.
Displays a list of trending hashtags.
38.5% of Twitter's global users are aged 25-34.
LinkedIn
Commercial content which is great for B2B marketing or recruitment.
Often used to recruit and apply for jobs with a job search and apply function.
Offers the ability to publish articles directly onto the platform.
Predominantly textual or visual posts.
Instagram
Largely visual content including photo and video posts, video content through Instagram's 'Reel' feature and photo or video 'Stories' which have a lifespan of 24 hours.
Allows users to leverage the use of hashtags to have their posts appear in search grids.
Most commonly shared content is personal and informal.
51.8% of Instagram users are male.
Snapchat
Designed for content, primarily images and videos, which can only be viewed twice by users before they are deleted.
Offers the ability to post 'stories' which last for longer periods of time before they are no longer available.
77% of Snapchat users in the UK are aged between 18 and 24.
TikTok
TikTok allows users to create videos up to 10 minutes long, however the most common video length is 1 to 3 minutes.
TikTok allows users to integrate their accounts with Shopify making it a great option for e-commerce businesses.
Tying together a differentiated channel strategy
So, if you're a business who utilises more than one social channel, how do you tie everything together?
Create unique content for each social channel.
Set unique goals and metrics for each platform.
Always ensure your contact information and website links are consistent across all channels.
Encourage your followers to interact with all of your social media accounts.
Perform competitor research to determine how your direct competitors leverage each social channel to their advantage.
To help make the most of your content efforts, you can also use  LinkTree as a way to tie together your social accounts. This makes it easier for you to share content across multiple platforms. Below you can see how we use LinkTree here at The Brains to signpost our followers to our relevant links.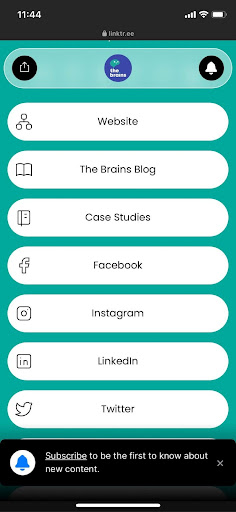 Social Media Marketing at The Brains
Our social media marketing expert here at The Brains, Farhiya, had this to say about using a cross-channel social media strategy:
Using a differentiated channel approach is great for building the top of your marketing funnel. If a customer likes you, they're more likely to follow you on more platforms. Then, the more they see you, interact with you and follow you across the web, this builds trust and nurtures a relationship. You can then drive traffic to your website and encourage followers to sign up to your marketing lists where you have more control over your content, nurturing followers into loyal customers.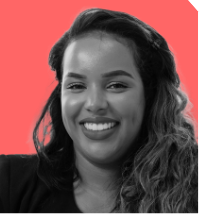 Farhiya Ali
Social Media Marketing Expert
Chapter 2:
Automated scheduling
Automated scheduling is a key part of social media marketing automation. Not only do these tools save you time automating repetitive tasks, they can also provide you with valuable insights into how well your content is performing.
So, what are the benefits of automatic scheduling tools for social media, and which ones should you choose?
4 Benefits of social media scheduling tools
Using a scheduling tool to automate your social media content allows you to:
Stay consistent – Growing a social media base takes time – and just as importantly, consistency! Social media platforms and followers value consistent efforts, and using automated scheduling tools can be a great way to achieve this.
Find best times to post  – Scheduling tools allow you to schedule posts for any day or time. Through monitoring the performance of your content and user engagement rates, you should quickly learn the most optimum time of day or day of the week to post. So, don't worry! If it turns out that your posts get the best engagement rates at 1am, you won't need to set your alarm.
Manage large volumes of content – As your brand grows, so will your content output. Working with multiple customer groups and developing a cross-channel marketing strategy means that you'll need to juggle content including posts, images, videos, stories, carousels and more. Managing the upload of all of this content would be tricky without automated schedulers.
Get everything done in one go – If you're a business owner or a marketer who wears many hats, you might not have a full content team working behind the scenes. Automated schedulers allow you to front-load your content production, so you can get content created and scheduled weeks or months in advance.
Which social media scheduling tool is right for my business?
Using a scheduling tool to automate your social media content allows you to:
There are many different types of social media schedulers at various price points. So, inevitably, the decision largely depends on budget. 
If you're a small business working with less capital and a lower content output, platforms such as Facebook and Instagram offer their own free post schedulers. Tools such as Buffer also have a free plan that allows one user to schedule posts for up to 3 platforms.
If you have a larger marketing budget and need to manage a larger content output, you can use tools such as Hootsuite.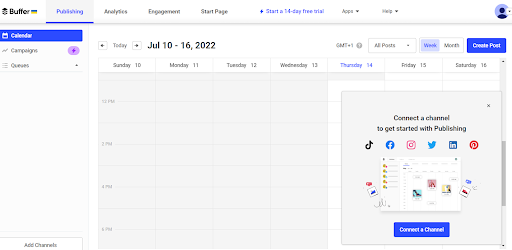 A Warning About Social Media Automation
However, it's important to note that there are some aspects of social media marketing that you should avoid automating. 
Automated posting isn't just a case of 'set and forget.' You should still be logging into your social media account on a regular basis to write custom replies to any comments or reviews. This demonstrates to your user base that you are a proactive business that cares about user experience and values two-way communication.
You'll also need to stay active and agile in order to keep up with current trends and post relevant, timely content.
Chapter 3:
Measure the right metrics
Tracking metrics is essential when it comes to understanding which social media efforts are effective. However, it's something that even experienced marketers struggle to get right. So, lets look at how to start tracking metrics that align with your strategies.
Start with your marketing objectives
The best place to start when deciding which metrics to track is with setting marketing objectives. If you don't have clear marketing objectives before starting social media marketing, you risk not measuring the right metrics.
Here's just one example of how marketers can get this wrong:
Let's say you want to grow your customer base, so you decide to use number of followers as your metric – it makes sense, right? An increasing number of followers = a growing customer base.
Here's the catch, however: if you don't focus on quality and relevancy of followers as well as quantity, you'll still suffer from low engagement rates and low sales – and ultimately your customer base won't grow. Whilst number of followers can be an important metric, in this case it might be more beneficial to take a step back and measure your content engagement metrics to check you've really understood your target demographic.
Start at the top of your marketing funnel and work downwards
Another common mistake that businesses make when deciding which metrics to track is to think too 'big-picture.' It's common for businesses to jump straight to the bottom of the marketing funnel and say: 'I'll measure sales.'
Whilst ultimately, the goal of social media for business is to drive sales, you'll first need to build up the top of your marketing funnel. If you don't have a loyal follower base and you're not active on social media, you can't expect to drive sales right away. So, yes, you could choose to track sales right off the bat, but there might not be enough to provide you with you any real data – and you'll also have no idea which efforts are driving them.
Below are some marketing objectives needed to build out the top of your marketing funnel and some metrics you can use to track them:
Build brand awareness – measured by followers, reach, impressions, mentions, image and post views
Improve engagement rates – measured by likes, comments, retweets and shares and CTRs
Stand out from the competition – measured by share of voice
Build a loyal following – measured by reviews, testimonials and shares, audience growth rate
Improve the customer experience – measured by brand mentions and feedback
Once you have a good idea of how the top of your funnel is working, you'll be able to understand which efforts drive sales and begin to measure sales metrics such as ROI, conversions and conversion rates.
You can also use our social media glossary if you'd like more information on any of the terms above.
Use Organic Metrics to Improve Paid Campaigns
Social media marketing can be incredibly expensive. So, you'll need to be sure that any paid content has the best chance of driving results. Our social media marketing expert, Farhiya recommends using organic metrics to determine paid campaigns:
Once you have an idea of how well your organic social media content is performing, you can use it to build your paid social media marketing campaigns. If you notice that a post or a video generates comments, shares and likes from your target audience, you can boost this or turn it into its own social media ad.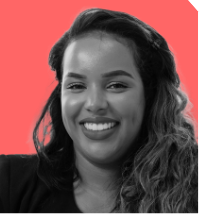 Farhiya Ali
Social Media Marketing Expert
Chapter 4:
Have a two-way conversation with your customers
Engaging with customers and encouraging two-way communication is a great way to nurture relationships and build a loyal customer base. At the end of the day, you're convincing your customers to part with their hard-earned cash and choose you out of hundreds of competing businesses. So, you need to make them feel heard, valued and understood. 
Here are 3 ways you can communicate with customers online:
Initiate and participate in relevant discussions
Encouraging and answering questions and discussions is a great way to engage your audience and to position yourself as a thought leader in your industry. Whilst you don't want to give too much industry knowledge away for free, providing your followers with enough information to prove your expertise can be a great way to build a loyal following.
Quora is a good place to answer industry-relevant queries. You can get started with Quora by selecting from a list of 'spaces' – topics that relate to your industry and your customers. Then, you'll be alerted when a users posts a question related within the spaces you follow. Ensure you put your company name in your bio and then start answering questions – just make sure not to come on too strong with a salesy message.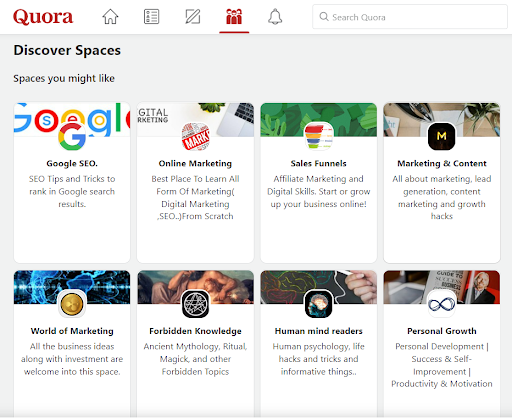 Respond to Reviews
Many business owners regularly reply to positive reviews – it's polite to thank customers for giving you positive feedback and of course, it feels great to speak with someone who values the work you do.
However, it's also important to respond to the negative reviews. You should thank the customer for their time, ask if there is any way you can resolve their issue and apologise for the inconvenience. Whilst it's difficult not to take negative feedback to heart, particularly if you feel it is unjustified, negative reviews can be a valuable opportunity to understand how you could improve customer experience.
Responding to negative reviews or requests also demonstrates to your customers that you're interested in their feedback – something which brands are able to use to their advantage.
As an example, in 2018, a consumer group launched a Sum of Us petition with nearly 500,000 signatures targeted McDonald's use of single-use plastics. This caused McDonald's to launch paper straws and ditch their plastic ones in 2019. The same year, Waitrose also announced a ban on plastic straws. Engaging with consumer feedback allowed these brands to take control of the negative dialogue and demonstrate that they valued customer feedback.
Don't just sell – communicate!
Whilst ultimately you're using your social media platforms to drive business, you should be doing more than just 'selling.' It's important to nurture relationships with your followers beyond just sales messages.
Take the time to reply to comments, offer helpful advice and show your customers you value their feedback.
Tips for communicating with your customers online:
Always remain professional – even when replying to negative comments and reviews.
Keep tone of voice consistent with your brand guidelines.
Know your audience – understand the language and tone they use to decide how formal or informal your responses should be.
Use social listening tools such as Brandwatch or searching your company name to understand what your customers are writing about you.
Don't just focus on sales – educate, inform and entertain too!
Chapter 5:
Managing your crawl budget
A/B Testing, or split testing uses data-driven insights to improve your targeting and increase engagement. This helps you to quickly find out which strategies drive results and which ones don't in order to increase ROI and build successful campaigns.
When A/B testing social media content, you can choose to test:
Post copy
Images and videos
Calls to action (CTAs)
Ad format
Hashtags
Target audiences
Geographic locations
A/B testing for social media best practices
Always use a control – Using a control or control group is what allows you to measure the effectiveness of any test. The control is a piece of content such as a 'post' or an ad without any changes – this is what you'll compare any tests against.
Start with organic testing – You should use organic success to choose your paid content. Anything that performs well at an organic level is more likely to generate results for paid campaigns. You can then boost this content on Facebook, or turn it into an ad.
Change one thing at a time – When running any social media A/B test, it's important to make small changes. For example, if you're testing a Facebook post and you choose to change the image, the text and the hashtags, you'll have no idea which changes had any effect. We recommend also recommend performing tests in small batches, leaving plenty of time between each one so you can really understand which changes are driving results.
Have a specific goal in mind – Once again, you'll need to keep a close eye on your marketing objectives when tracking metrics.  Don't just focus on vanity metrics – if your content receives lots of impressions but has low CTRs, it won't drive results.
Analyse competitor strategies – If content performs well for your direct competitors, it's likely it will also resonate with your target audience. You can take a look at competitor A/B tests for paid campaigns by looking at their ad libraries. Below, you can see an example from Wilko, who ran two similar Facebook ads, one with hashtags and one without.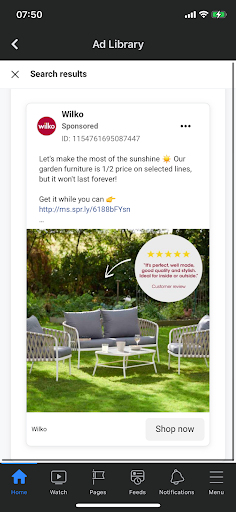 Chapter 6:
Build strong partnerships
If you're struggling to stand out from the crowd on social media, why not work with the crowd instead of against it? It can often be beneficial to work with industry professionals and ambassadors – and even sometimes with your competitors through the use of brand partnerships. 
Why is it important to build strong partnerships?
Building strong partnerships on social media allows you to:
Spread your digital reach, showing your content to more of your target audiences across the web
Demonstrate a product or service in use with testimonial
Position yourself as an industry expert – providing quotes and insights on industry trends in relevant publications
Access lookalike audiences from your competitors 
Successful brand collaboration produces great results for all parties and taps into new markets – as long as audience segments align with one another. A great example is the 2022 #borntomix campaign from Absolut Vokda in partnership with Ru Paul's Drag Race UK alumni, Tayce, designer Chet Lo and Ateliers Institute of Digital Fashion. This campaign combines common interests of their key persona groups to build awareness of all brands.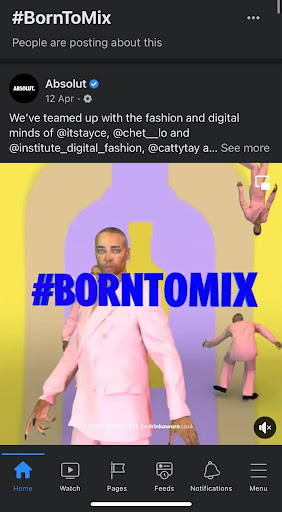 How to Build Social Media Partnerships
Understand your audience – make sure to find partnerships that align with your brand goals and values. If you're a brand that sells items for children, you should choose partners who create family-friendly, age-appropriate content.
Work with influencers that represent your target audience – As consumers, we want to understand how a service or product will work for us. You can demonstrate this to your following by working with influencers who mirror your audience. So, if you sell plus-size clothing, it's likely your target audience will want to see your clothes modelled by plus-size influencers.
Understand where your audience lives online – Once you understand the social media habits of your target audience, you can partner with relevant content creators, media publications and other industry experts that already interact with your audience or lookalike audiences.
Find partnerships that are mutually beneficial – No influencer, publication or industry partner is going to work with you for free – they'll want to know what's in it for them. So, you'll need to work with your partners to create mutually beneficial social media campaigns – such as a joint competition that encourages entrants to follow both brands.
Tools You Can Use to Build Partnerships Online
Use Help a Reporter to find journalists and publications that need content in your industry.
Upfluence – A search engine for influencers.
Search related hashtags in social media search engines to discover similar content creators.
Check out partnerships that your competitors are using – if you share a similar audience, this will give you an idea of which partnerships resonate with your customers.
Chapter 7:
Utilise keywords and hashtags to win on social search
Using hashtags is a great way to increase your content visibility. However, there's a fine line between strategic hashtag use and having your content come across as spam. Hashtags are also used differently across each social media platform, so best practice varies depending on which channels you use for your business.
How many hashtags should I use?
We recommend the following hashtag frequencies:
Instagram – 10-15 hashtags
Facebook – 2-3 hashtags
Twitter – 2 hashtags
Pinterest – 3-5 hashtags
TikTok – 3-4 hashtags
Performing hashtag research
Every hashtag you search will display a limited number of results depending on which social channel you use. Your goal as a poster is to rank your content near the top of this list for as many hashtags as possible in order to increase content visibility. Essentially, you'll need to work on 'hashtag SEO.' To do this, you'll need to put some careful planning into the hashtags you use. 
Start by generating a list of hashtags
You can start by generating a list of hashtags related to your topic using a tool such as TagsFinder.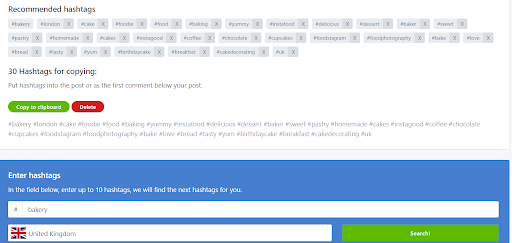 Once you have a list of relevant hashtags, you'll need to sort through them to find the best options. 
If you include hashtags with hundreds of thousands of uses, your post will only be likely to appear at the top of the results page for a few minutes – or even seconds. If you use a more niche hashtag, your post will appear at the top of search results for much longer – but there needs to be enough search volume in order for users to discover it. 
To narrow down your hashtag youse, you can use tools such as Keyword Tool, which display hashtag search frequency and hashtag difficulty. You can also manually search hashtags and use frequencies manually using the 'search' function on each social platform for free.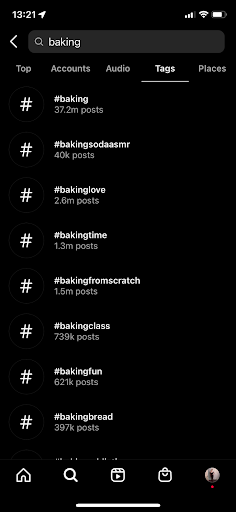 We recommend including a healthy mix of high-volume competitive hashtags, lower-volume niche hashtags and occasional branded hashtags in your social media posts. 
Use Hashtags for Events and Competitions
Another great benefit of hashtags is that they allow you to run and keep track of social media events, giveaways and competitions. 
By encouraging your followers to share posts to their accounts with your branded competition hashtag, you'll be able to measure the success of your competition and search through entrants in order to find a winner. You can then use this list to understand  and gather data from your target audience.
Chapter 8:
Create compelling content
Social media marketing is built on content. So, it's absolutely essential that you create high-quality, compelling posts, images and videos that resonate with your target audience.
Before you jump into the creation process, here are a few tips to help you make the most out of your content.
Understand Your Marketing Funnel and Customer Journey
When planning and creating social media content, it's important to consider what a typical buyer's journey looks like for your customers, as well as your overall marketing funnel.
There will be multiple stages along your customers' journey, from recognising a problem or pain point, researching solutions, learning about your solution, comparing your solution with competitors, price evaluation and ultimately conversion.
You won't always have control over where a potential customer enters this funnel. So, it's important to have a carefully curated content plan with compelling content for each stage of the journey. You'll also need to think about how you can push a potential customer from one stage to the next within a natural content flow. 
Let's say you own a gym and want to gain new members. What might a marketing funnel look like for your target audience and what type of content is suited for each stage?
Problem recognition – Content surrounding why it's important to stay fit and healthy or the risks of not doing so.
Awareness – Linking to content about how going to the gym can help weight loss and improve health, positioning your gym as a solution.
Consideration – Content about how your gym is the best option to meet the problems of your target audience with cost comparisons and testimonials.
Decision – Posts with offers and discounts.
Maintaining loyal customers – Content encouraging reviews, shares and member perks or discounts.
Understand your audience
Never underestimate the power of content! The restaurant giant Nando's is a great example of a company that truly understands their demographic and the content that resonates with them. They frequently receive thousands of likes and shares across social platform with on-topic memes that resonate with their largely Gen Z and millennial audiences.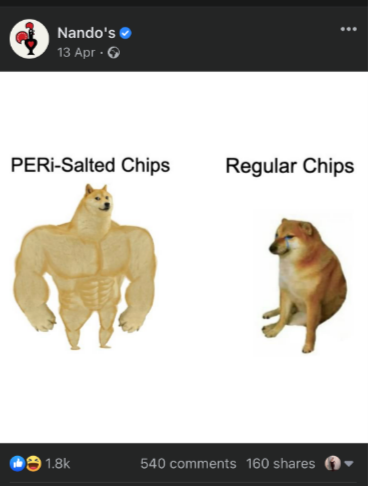 In light of this, you should keep an eye on trending topics, not just from within your industry, but on topics that engage your target audience. Follow similar brands to discover lookalike audiences and regularly search trending topics via Twitter hashtags or
Google Trends
to see which topics your customers interact with – everything from music tastes, TV preferences, lifestyle and lifestyle habits. Creating compelling social media content is about making a connection with your following. We also recommend using
BuzzSumo
which allows you to view the most popular content for a set topic by engagement rates.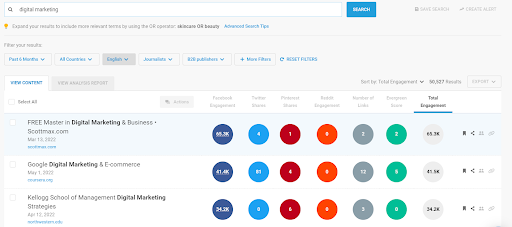 Use design tools to create high-quality assets
Canva is an amazing tool with a comprehensive free offering that lets you create custom designs for posts, stories, ads, reels, infographics and more. You can also make use of their extensive template library. It really is a one-stop-shop and a necessary marketing tool for any social media content creator.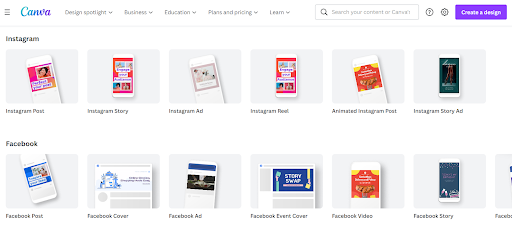 Tips for creating compelling social media content
Follow brand guidelines including tone of voice and design.
Monitor engagement rates through social listening and metrics tracking.
Ensure your content is age-appropriate for your follower base.
Don't be afraid to make use of different formats such as polls, or questions.
Be consistent, but focus on quality over quantity.
Don't get discouraged if your early content efforts don't receive much engagement. Building a following takes time!
Chapter 9:
Social media marketing glossary & next steps
Congratulations! You've now completed our Brainy guide to social media marketing! You'll now understand how to take your social media marketing campaigns to the next level. 
If you'd like more clarification on any of the terms mentioned in this article, you can check out our social media marketing glossary – and if you feel like you've mastered this stage, you can now move on to our advanced guide to social media marketing. 
Happy marketing!
Book a free social media marketing consultation
Levelling up your SMM skill set will definitely stand you in good stead – but to really take things up a notch, get in touch with our award-winning Brainy marketers today.