The Brains Content Portfolio
Content is a fundamental part of our service offering here at The Brains, and our B2B and B2C copywriting experts specialise in producing industry-leading, sales-driving content across our entire client base.
Over years in the marketing sphere, The Brains has perfected its content creation offering. We're proud to have produced an entire suite of content-based marketing products. This includes hundreds of SEO blog posts detailing everything from the intricacies of tech and finance solutions to beauty and fashion tips, a selection of engaging customer-focussed landing pages for both B2B and eCommerce brands and stunning, detailed lead magnets to bolster sales.
In this leaflet, we invite you to browse our portfolio of expertly crafted content pieces for an insight into how we help our clients succeed in today's competitive landscape.
Overview – Our Approach

Website Content – Landing Pages

Website Content – Blogs & Lead Magnets

Email Content

Online Advertising
Our Approach to Content at The Brains
At The Brains, our content production team is driven by not only the ever-changing trends within the marketing industry, but also the trends in the industries our clients are part of. To create highly-targeted, conversion-driving content, it's essential that we have a thorough understanding of our clients' service offerings, their USPs and their place within their industry sector. 
During our content workshopping processes, our teams work with clients to establish a consistent brand style, clarify a specific tone of voice and delve deep into targeting, to help influence the content that is produced throughout the project. Producing copy for a brand is not simply about understanding how a specific product or service works – as an agency, we need to collaborate with our clients to discover the finer details. How does the product or service address the pain points of a specific target audience? How might each audience react to different levels of formality within a piece of copy, and why? How does the user journey look and feel as a whole, and how does our copy support this? 
Another key factor we consider is the content marketing funnel. Your prospects will likely want different things depending on where they are in the funnel, and it's our job to build this out and generate content ideas that will align with each stage. 
A prospect will come across your business at either the Awareness, Education or Decision stage. Each of these stages corresponds to how ready the prospect is likely to be to make a purchase, so it is important to factor this into content creation as it forms part of the user journey. For example, blog posts are likely to be the most useful content piece at the Education stage, whereas a sales-driving landing page with a strong CTA that highlights clear USPs will be more beneficial at the Decision stage, as you will be looking to stand out from your competitors. At The Brains, we can help to build out a content marketing funnel for you, align this with your wider strategy and generate an irresistible user journey for your prospects.
Our approach to content at The Brains is also internally collaborative. In the majority of cases, we are producing copy for clients as part of a wider SEO strategy, and so ensuring there is a clear direction set out by the SEO team for each individual landing page or supportive piece of content is key. Part of our workshopping process may also include content gap analysis from our senior strategists, and creative input from our design team depending on your agreement. In short, we make sure to recommend the best possible combination of marketing services to meet your business goals. Whether you're a B2B business looking to increase the volume and quality of your leads, a B2C company in need of a content and design refresh or a new business looking to bulk out your site with educational, conversion-driving content, our teams at The Brains can support your vision.
Website Content | B2B Landing Pages
Aurora Capital 
Leading business loans provider Aurora Capital approached The Brains in need of a website overhaul. Creating the new designs and new content was a collaborative process since many of the products were niche and involved a degree of technical input. Our focus was to ensure the brand came across in two key ways highlighted by the client – approachable, yet knowledgeable. The client wanted to make sure they avoided using too much jargon, while still maintaining a level of professionalism and authority that would portray Aurora Capital as a trustworthy provider of business loans.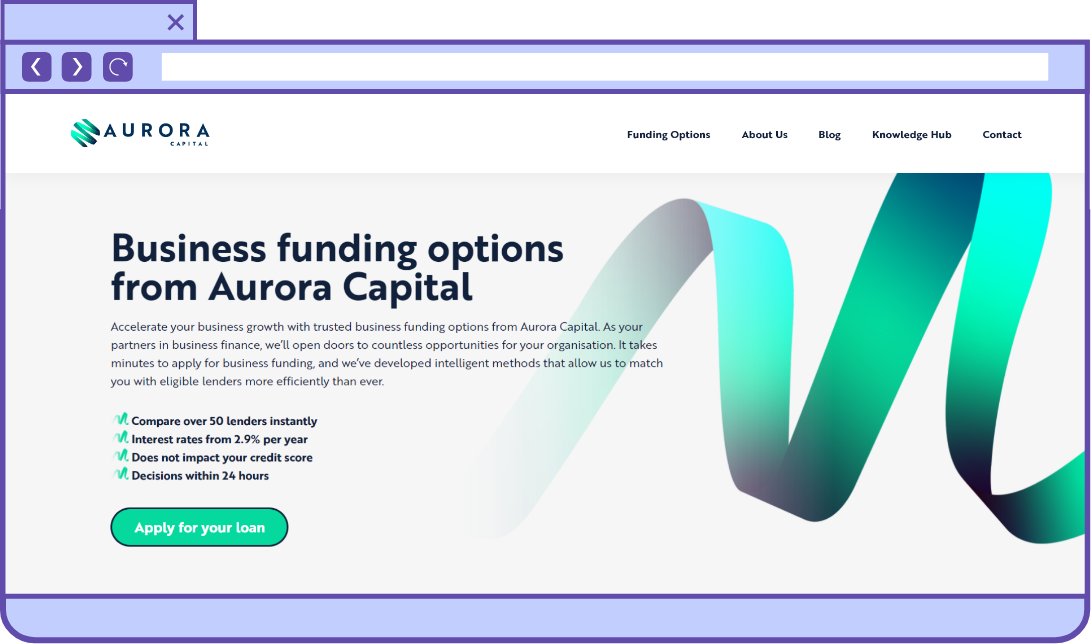 Jenson Funding Partners
Our content team worked with Jenson Funding Partners to develop some of their key sales-driving landing pages. The key messages the client wanted to get across included highlighting the differences between EIS and SEIS funds, as well as providing key details about the investment process, making the information clear to new site visitors.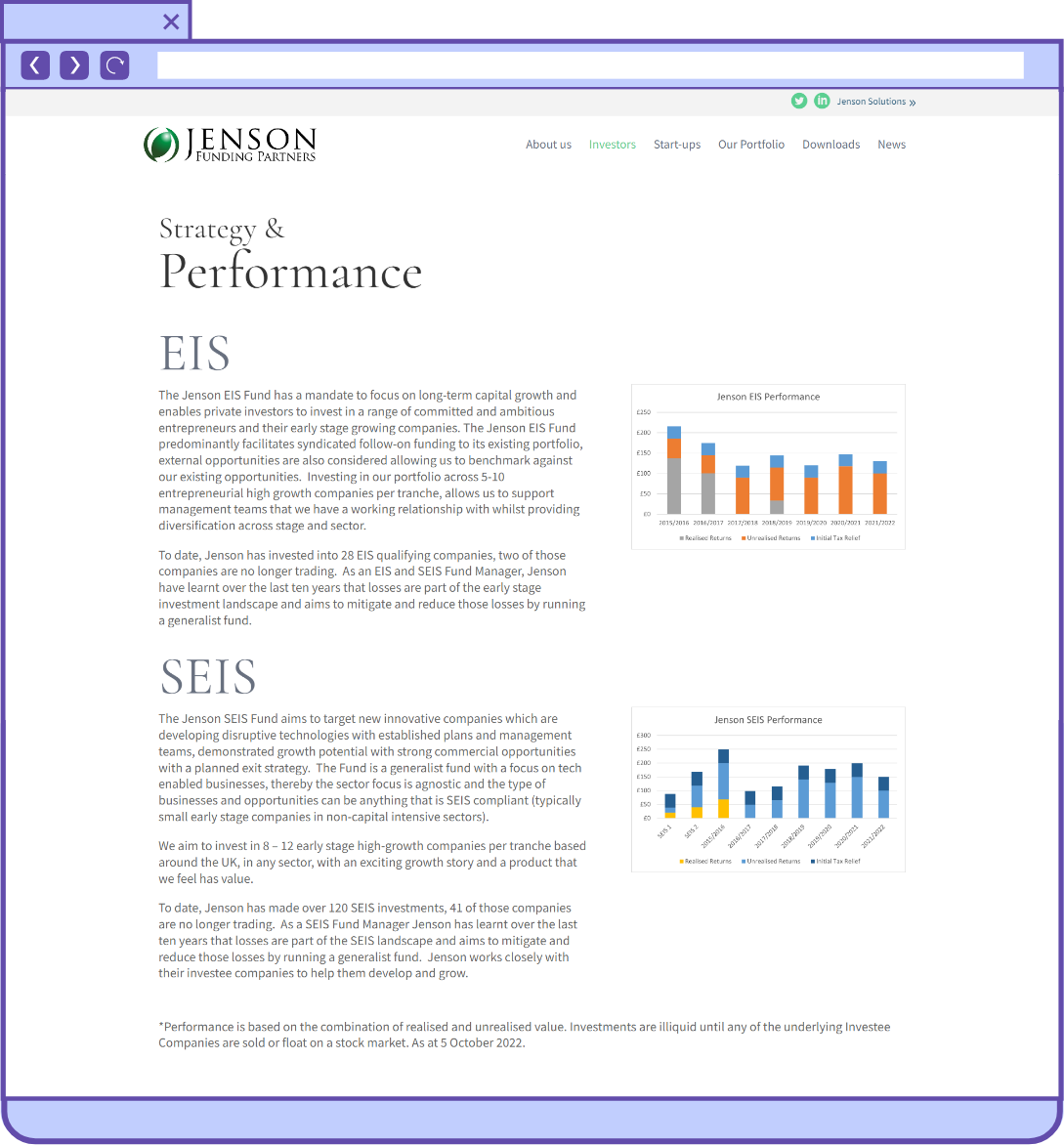 SFG20
SFG20 are the gold-standard operators at delivering professional-level maintenance specifications across a variety of sectors. The team build and customise maintenance schedules to suit the changing needs of a business estate and keep ahead of ongoing legislative requirements. With such a necessary but niche operation, our job was to reflect SFG20's core services – and the fundamental benefits – to their key audiences in a way that was both intuitive and conversion-driven. Here you'll see a shot from the Asset Mapping page, which spotlights the game-changing gains a business can make by deploying SFG20's advanced software.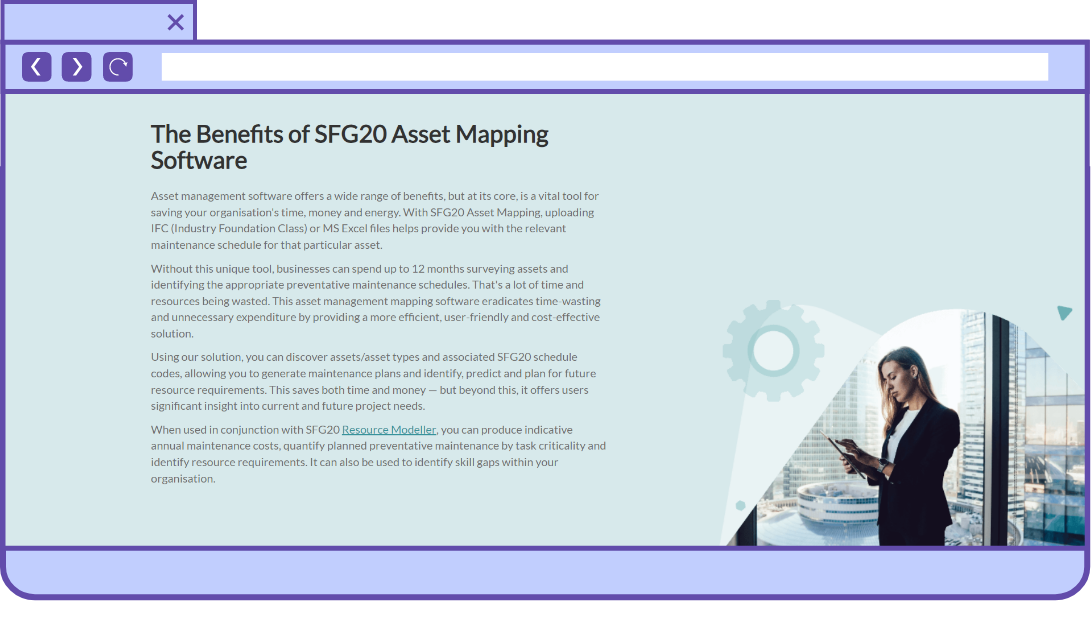 Call Handling
Having been at the forefront of the UK's CCaaS industry for 30+ years, the Call Handling team sought a new website to better reflect their pedigree and authority in the space. Our content and design Brains collaborated to build a modern and innovative new home on the web. Call Handling specifically targets organisations in the charity, retail, construction and public services sectors, and so the key here was crafting content specially-designed to convert these high-value audiences.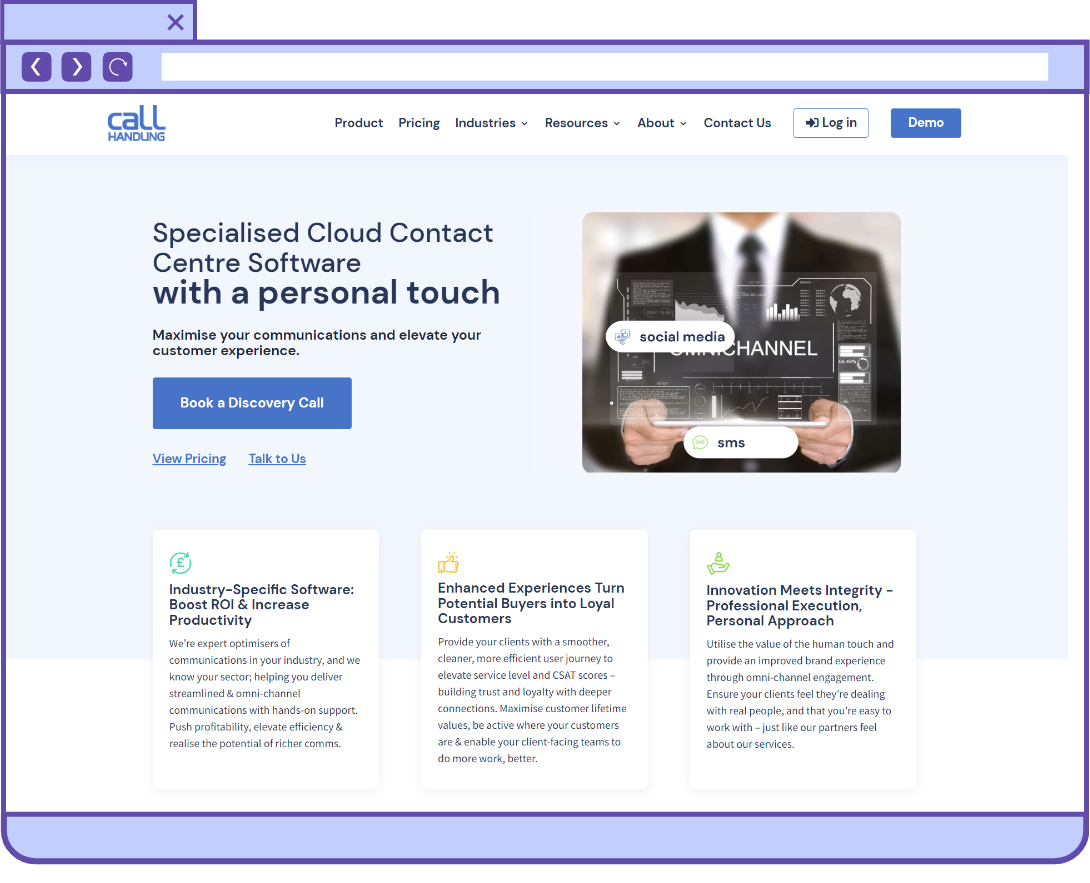 Website Content | B2C Landing Pages
The Awareness Centre
In line with a wider SEO strategy, we produced several batches of long and short-form landing pages for The Awareness Centre, a healthcare service and counselling training provider. It was important to the client that there was a clear distinction between their counselling/therapy services and their training school offering, so our SEO specialists, design team and content writers worked together to develop landing page templates and highly informative content to do just that. We kept page styles consistent, and made sure that each page linked to other relevant content on the website to provide optimal support for the user.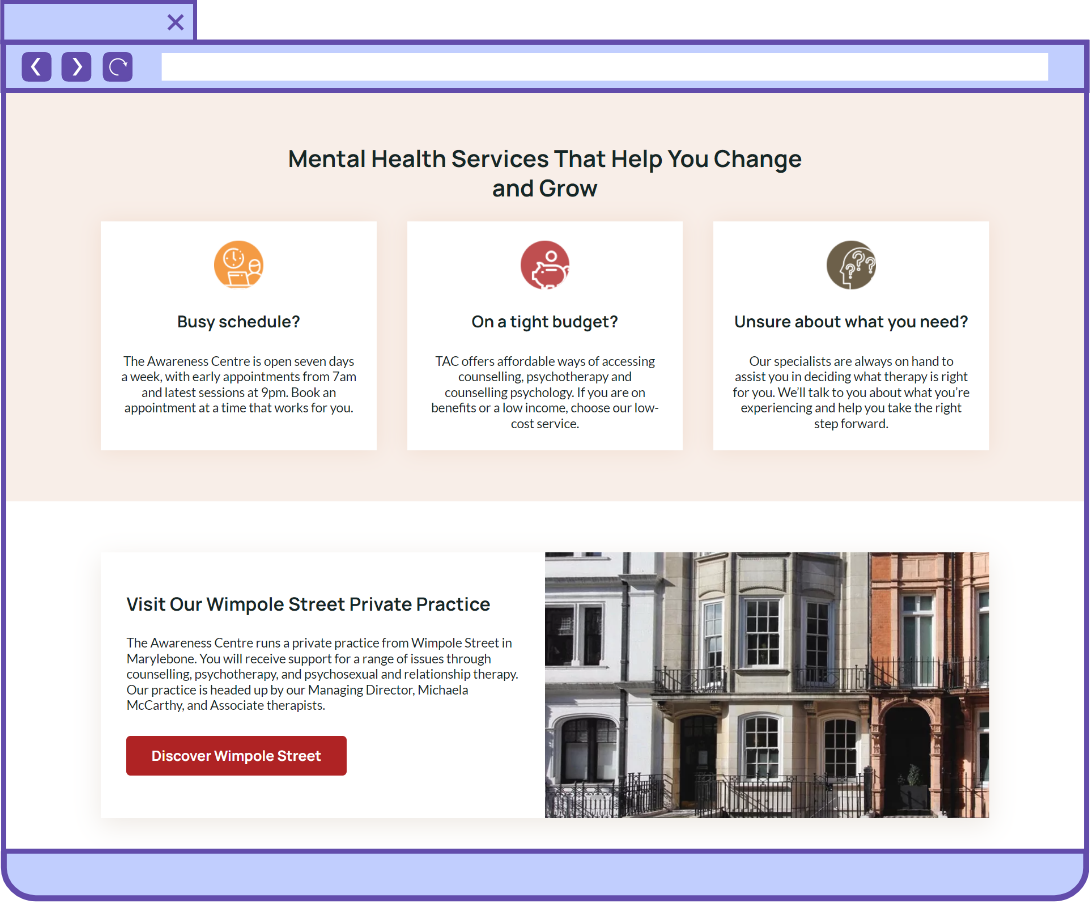 Phoenix Bark
Phoenix Bark had clear messaging in mind when approaching The Brains, but in order to produce the content for their refreshed website, we also needed to hone in on the key USPs and target personas. After some initial workshopping, it was clear that the client wanted to focus heavily on freshness, the quality of their ingredients and the personal touch that they provide when designing these tailored meal plans for dogs. Our content across all of Phoenix Bark's landing pages encapsulated this and more; solving issues around the clarity of the user journey and establishing a strong voice for the brand.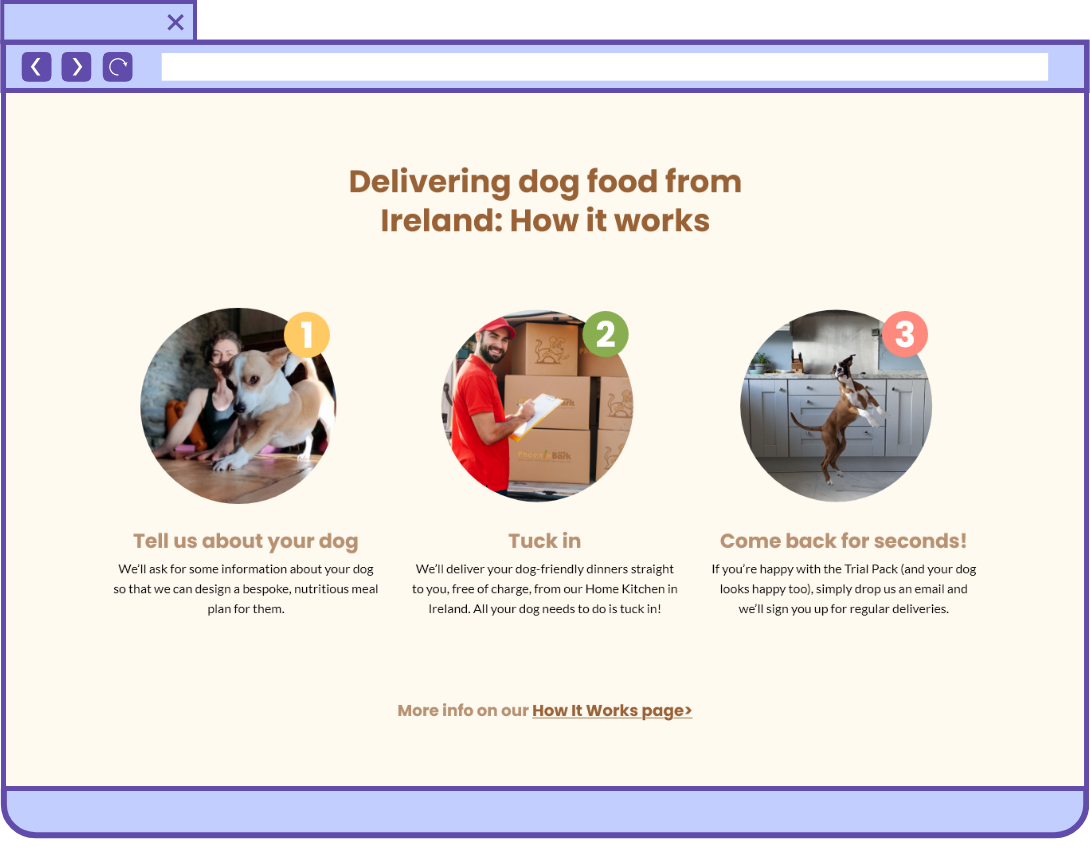 The New York Laser Clinic (NYLC)
NYLC, a London-based beauty and aesthetics clinic, also benefited from a website refresh and content overhaul from The Brains. After defining the user journey and the most profitable CTAs, our content team created more informative copy for each landing page, optimising FAQs, adding more specific details about treatment processes and making sure to highlight key USPs throughout.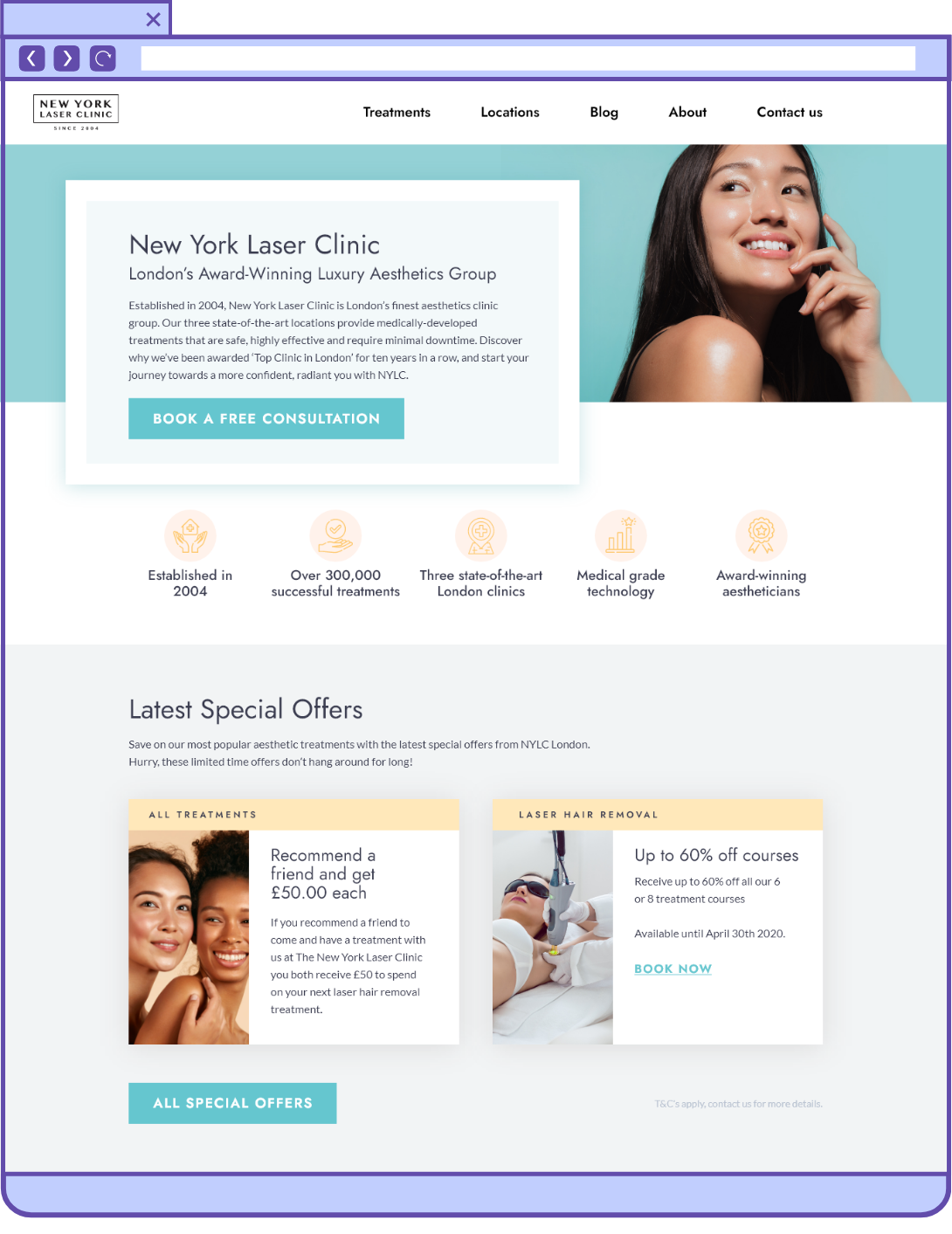 Website Content | B2B Blogs & Lead Magnets
iopa Solutions
FinTech recruiters iopa Solutions needed to produce a series of informative content pieces to explain their service offering and provide insights about the current issues that many FinTech firms were facing. These guides detailed why there is so much difficulty recruiting for FinTech companies, how this differs between US/UK firms, and how candidates themselves can get involved. We worked with iopa Solutions to develop an authoritative, consistent tone that was inline with their site as a whole, and kept their two key persona groups in mind – FinTech firms and candidates.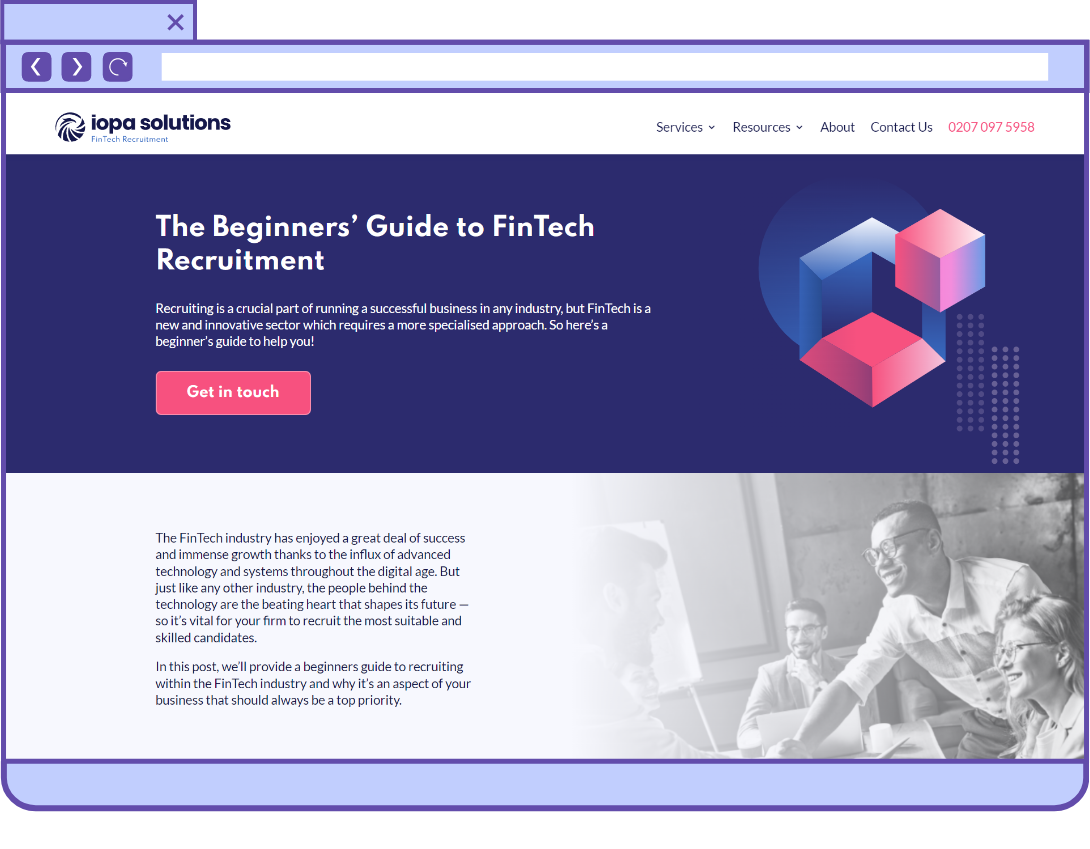 Rezatec
Rezatec has been a long-standing client at The Brains, and over the years we have produced a series of blogs and thought leadership pieces detailing newsworthy stories in the dam and pipeline maintenance sector. A key feature within content production for Rezatec has been generating excitement and interest around the topics, keeping in mind the target audience and authority of the brand. We have also produced engaging ad copy for Rezatec.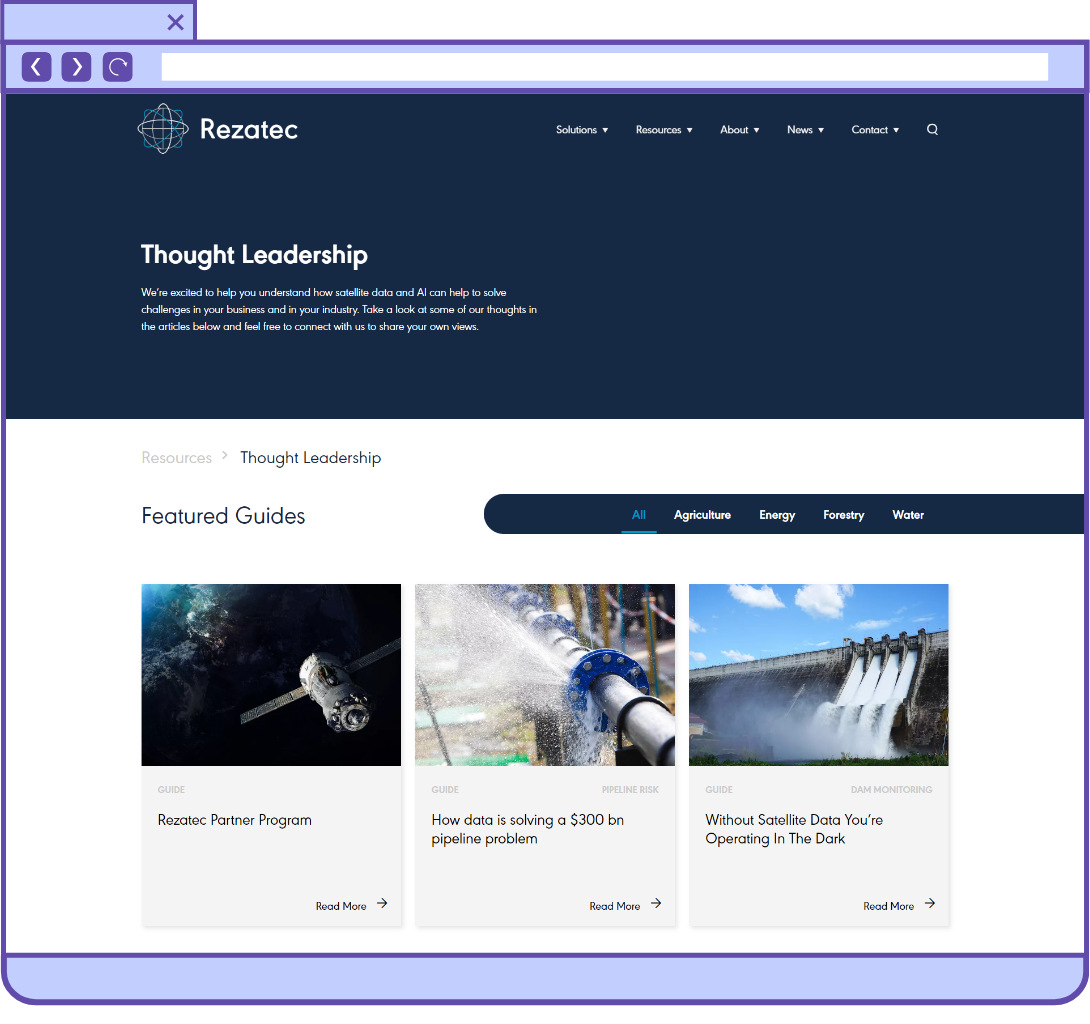 The Brains
Of course, we couldn't leave ourselves out of exceptional content asset production! 
We've built an entire digital marketing training academy from the ground up, giving users a unique insight into the ways we build our own campaigns. By enrolling in Brainy Academy and starting out on the journey to digital marketing mastery, CMOs, marketing teams, influencers and individuals alike can develop the raw skills needed to maximise ROI and secure ongoing growth.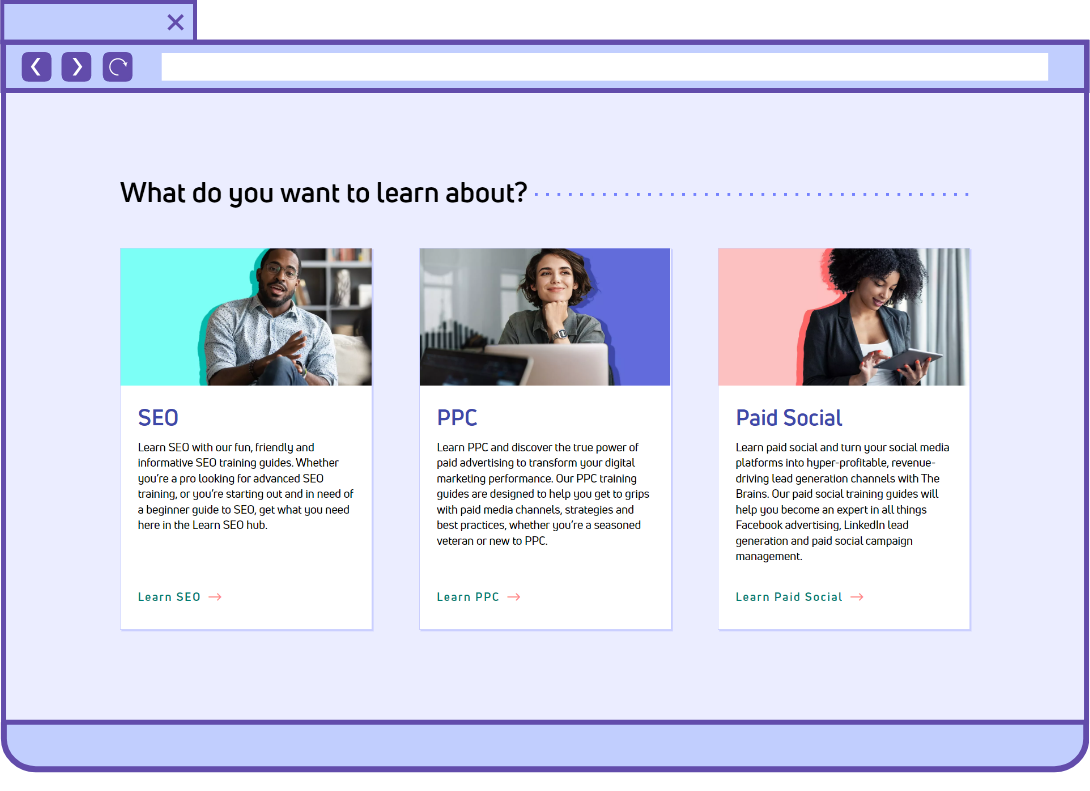 Along the way, they'll find invaluable jargon-busters, service-specific guides broken into beginner / intermediate / advanced levels and articles addressing some of the most commonly-asked questions in the industry. Plus, there's the News & Insights wing of the academy, frequently updated with digital marketing thinkpieces to demonstrate our thought leadership credentials.
And that's to say nothing of our back catalogue of revenue-driving lead magnets. Check out a couple of content assets from our archives here:
Call Handling
Cognizant of the fact that Call Handling targets extremely specific B2B audiences – namely, contact centre managers in the retail, charity, public sector and construction sectors – we developed a series of highly-focussed lead magnets, which kicked off with a retail-centric thought leadership piece. We conceptualised the lead magnet as a retail-industry cross-section. It details common issues across contact centres in this space, takes Topps Tiles as a real-life instance, presents Call Handling's VCC product as the solution, and dives more deeply into the Topps Tile / Call Handling partnership to illustrate an ideal use case.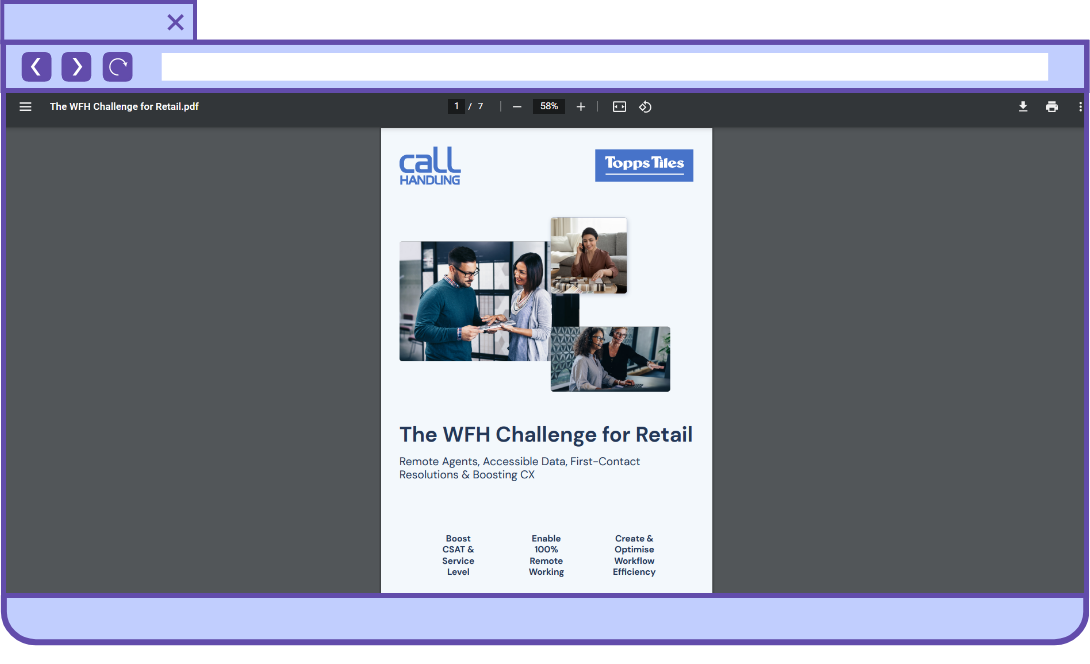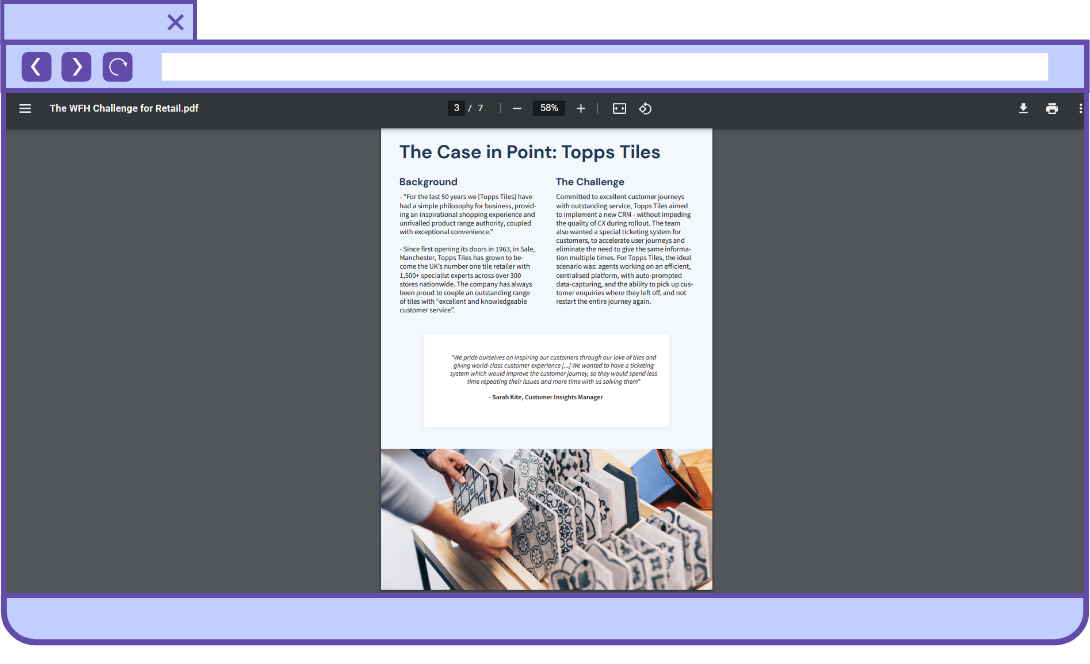 Website Content | B2C Blogs & Lead Magnets
Bbright
As well as producing and redesigning Bbright's landing pages, we also developed an SEO-based blog plan to support these pages. Bbright is one of London's most efficient boiler repair and replacement services, and so part of the content strategy involved boosting awareness around the issues that arise when boilers are not replaced or serviced regularly. In keeping with the brand's light-hearted, informative tone, our content team produced a variety of blogs based on common customer FAQs, as well as more in-depth guides around boiler replacement or maintenance queries.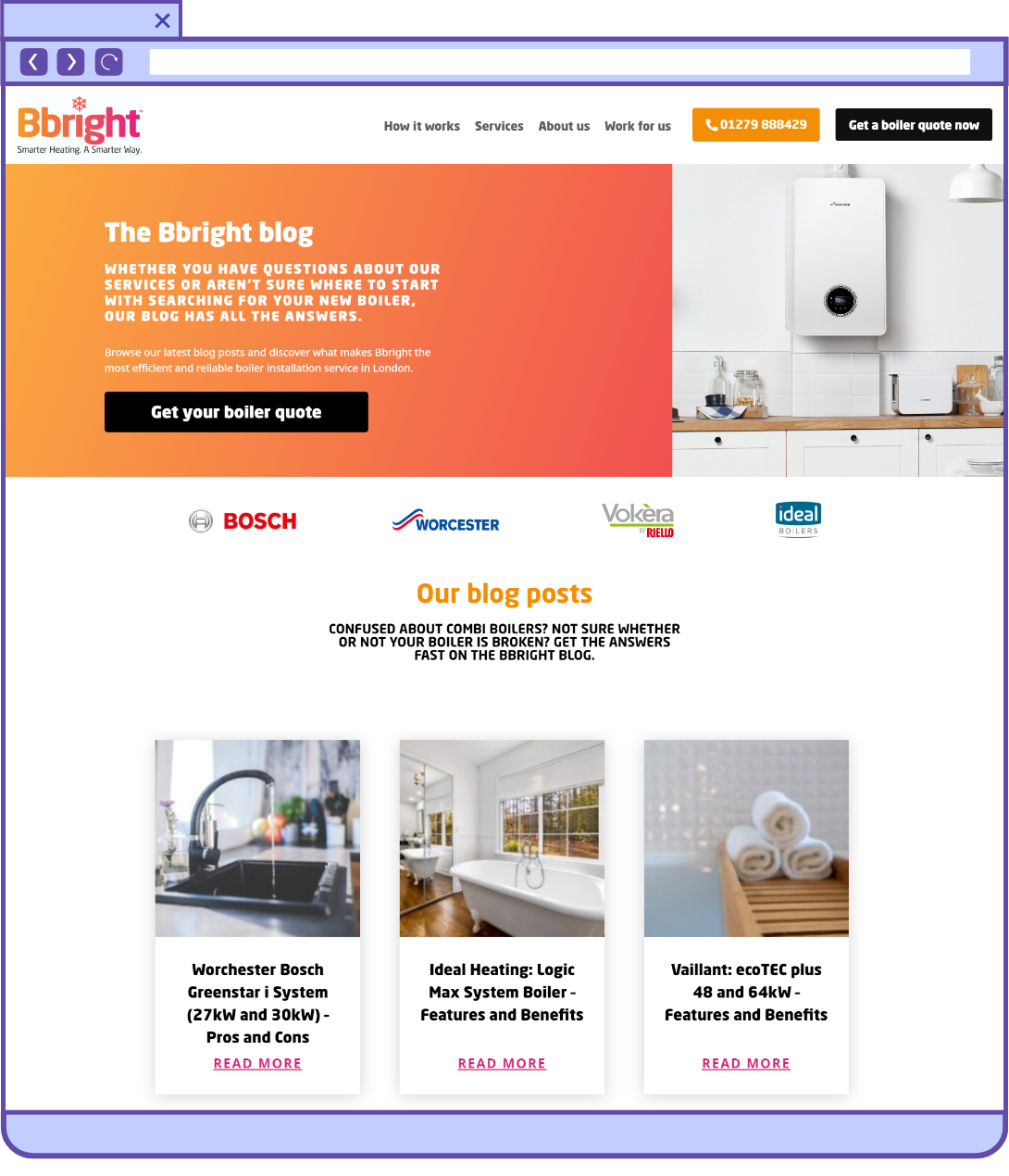 Psymplicity
Psymplicity Healthcare provides support for a range of conditions, from depression and anxiety to child and adult ADHD. Creating content for the client based on these conditions and the support available involved striking a fine balance between reassuring yet factual language. The client stressed the importance of keeping the tone approachable and caring, while still getting the important messages across concerning the severity of certain conditions. Working with the client, our content team produced a variety of long-form articles supporting long-tail keywords relating back to the client's core service pages.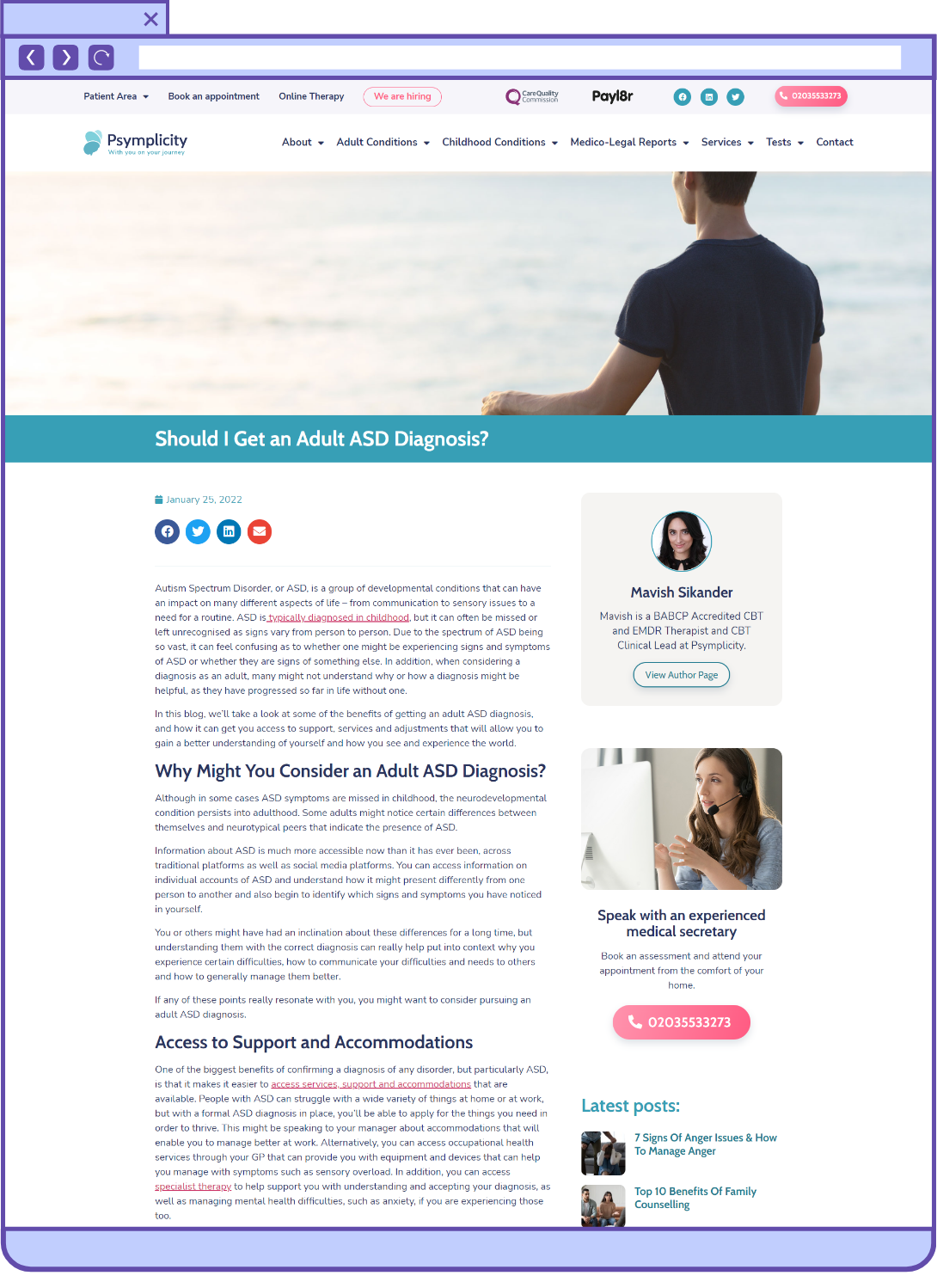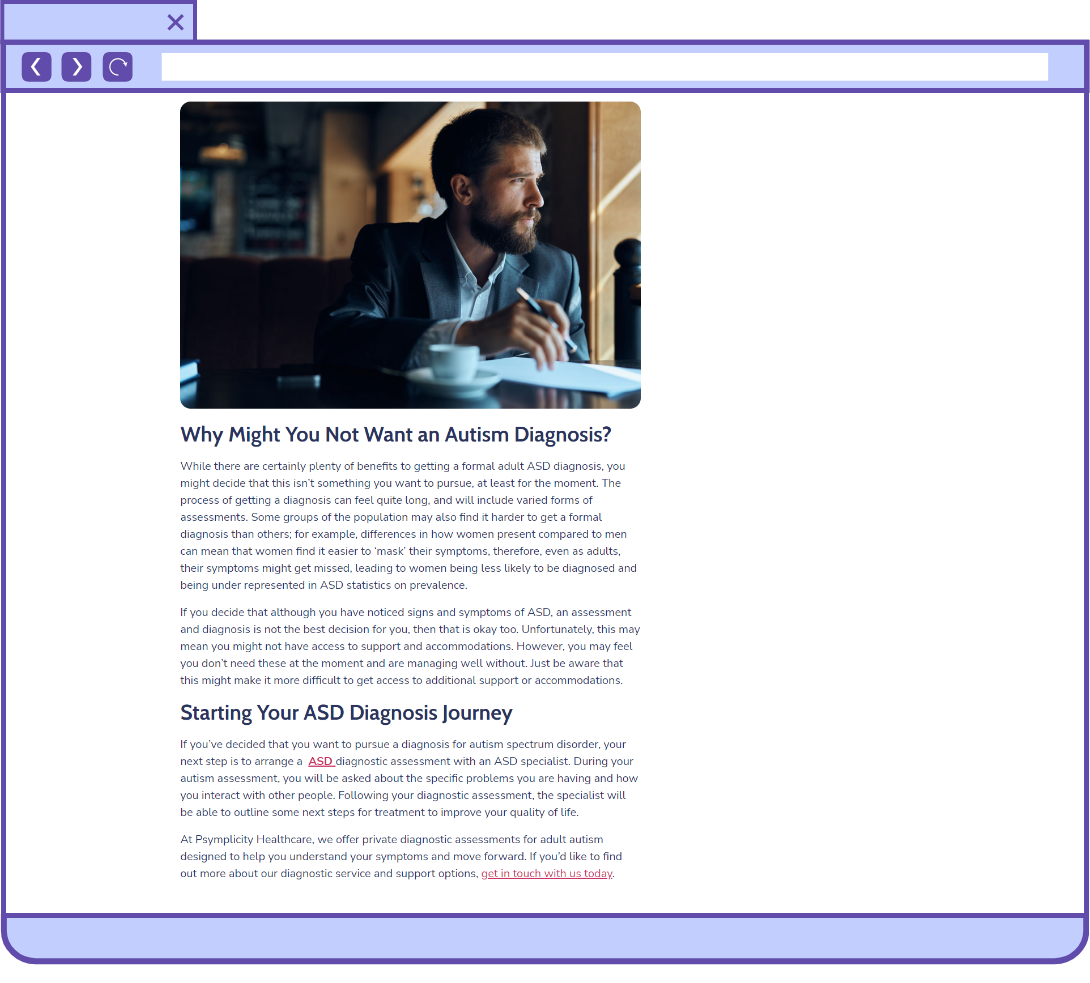 OH Parsons
OH Parsons is a leading UK law firm specialising in helping people make personal injury and medical negligence claims, as well as settle employment disputes and win compensation for industrial/work related diseases. They have been an established law firm since 1946 and came to us needing supporting organic content that demonstrated their far-reaching knowledge, but that was presented in an easy-to-understand way for prospective clients. Working under the guise of the OH Parsons team, our copywriters produced legally sound content centred around high search volume phrases that was easily digestible to the average person, but that upheld the company's long standing reputation and communicated their dedication to getting justice for their clients.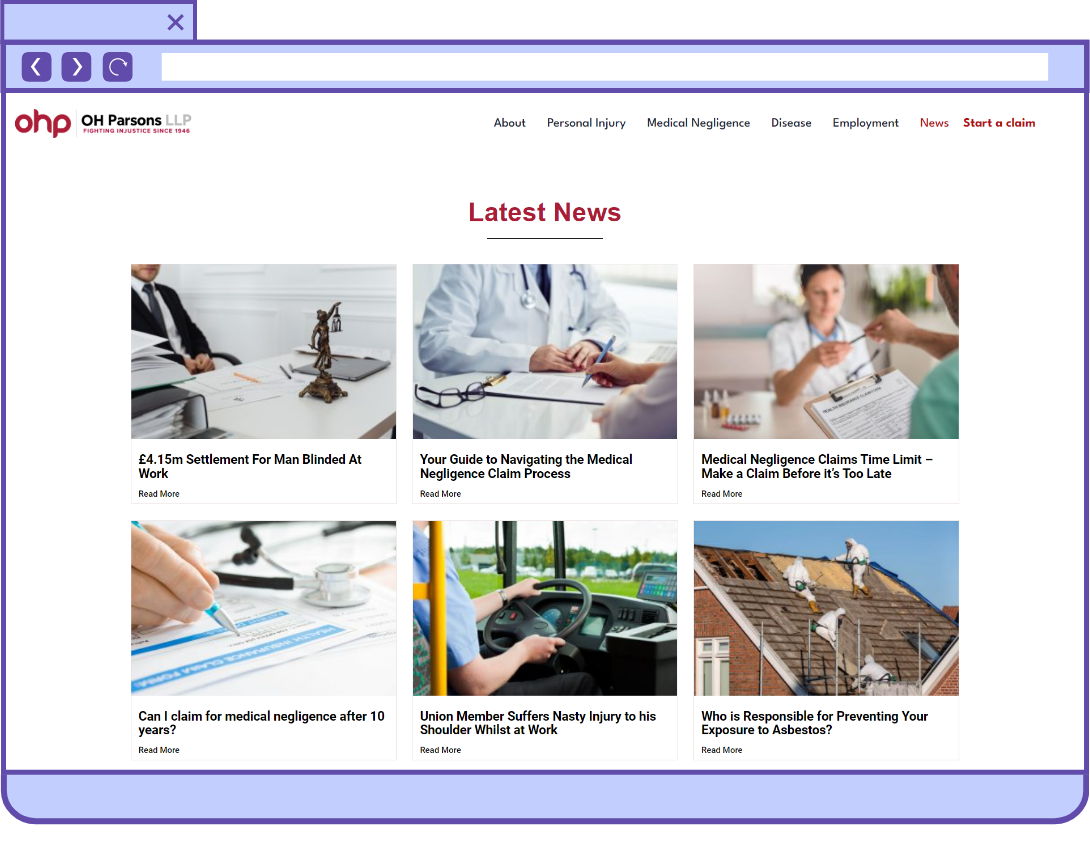 My Consumables
This eCommerce platform required striking ads for Facebook. With plenty of product offers to push, there were various opportunities in terms of direction, however our PPC team first created a brand awareness campaign to get the ball rolling. The copy focussed on key brand USPs, strong CTAs and a consistent use of emojis to give the brand a younger feel as directed by the client. The second stage involved pushing the specific money-saving deals.
Outfund
For Outfund, eCommerce business funding specialists, we provided sets of Facebook ad copy for 2 different campaigns: prospecting and remarketing. At the prospecting stage, we largely focussed on brand USPs and strong CTAs, whereas remarketing ads had more direct, solutions-based messaging. We also provided a translation service for these ads which allowed the client to target the Spanish market, and our design team took charge of the creatives.
Need help or ready to speak right now?
Speak with a Brainy strategist about your marketing goals
Book a free digital marketing consultation
Consult with a leading London agency on your marketing goals
Receive free advice and recommendations on how to achieve them
Get an idea of next steps for your marketing strategy