How to Execute an Outstanding PPC Campaign
In today's marketing world, an effective pay per click advertising (PPC) campaign has to be one of the best-loved weapons in your arsenal. You can't go without it. Executed correctly, a robust PPC ads campaign will bring a whole host of benefits to your overall marketing strategy. You'll enjoy the luxury of sitting back and watching as that return on advertising spend (ROAS) literally skyrockets. It's an essential part of online advertising and an integral marketing tactic that can yield tremendous benefits.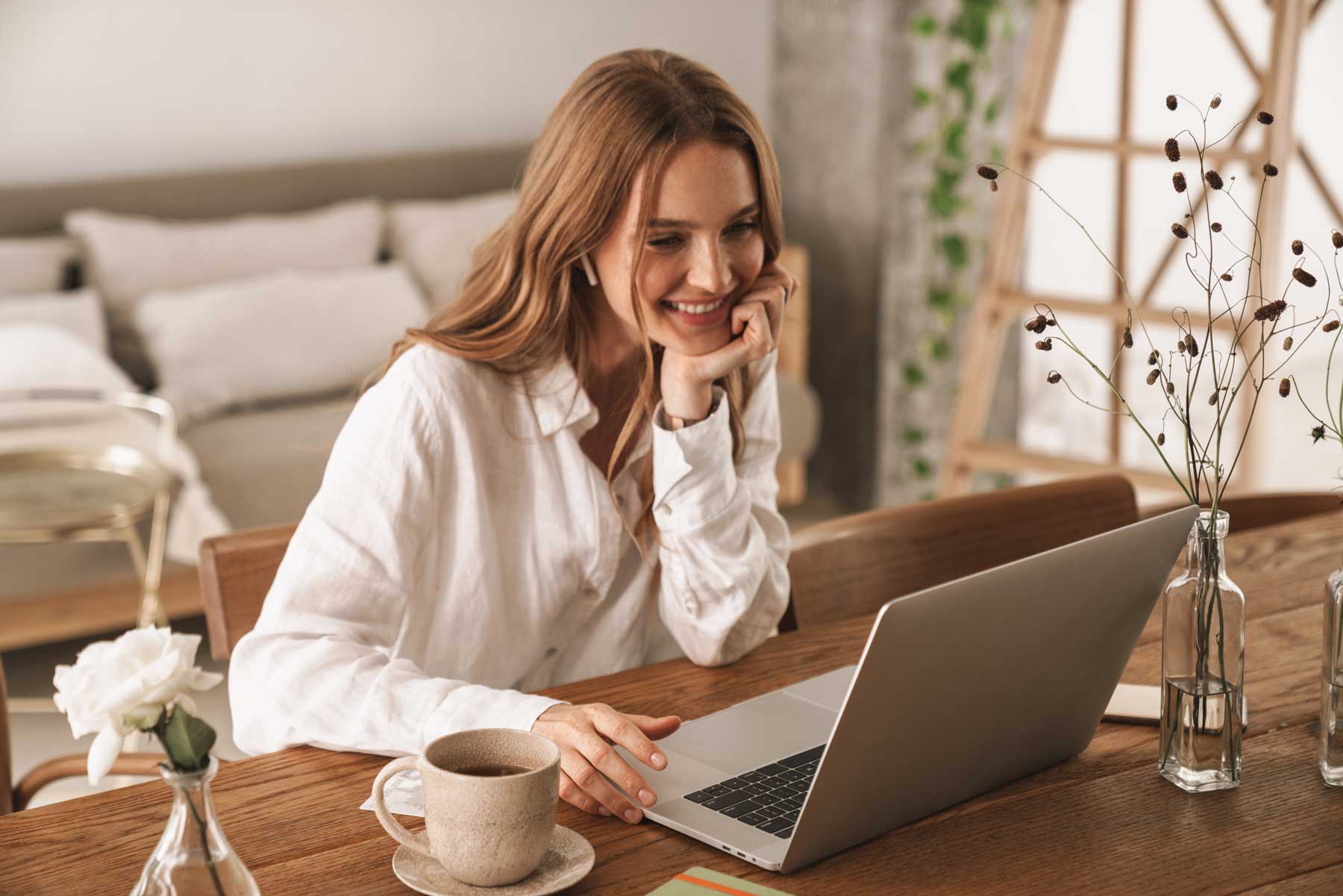 As a business, there's no question that it's important to keep up with what's new in PPC, and more generally in industry trends. With marketing platforms undergoing constant modifications – algorithm changes, privacy changes, the prospect of a cookie-less future – staying up to date allows you to keep ahead of your competitors and improve your ROAS, as well as your general ad performance. So, what is it that makes a great PPC ads campaign in 2022?
The rise of PPC in 2022
In search engine marketing, things are always evolving, and PPC is no exception. PPC campaigns are a popular choice for advertising due to the level of control they provide. Marketers who know how to do PPC campaigns right love them for their flexibility and the immediate growth they can show in ROI terms. In 2022, we can anticipate many changes to the way PPC advertising operates and as ambitious business owners, it's essential to keep on top of what's new.
Of course, many businesses around the world have been using PPC ads as part of their marketing efforts for years, yielding a number of immediate benefits:
Increased traffic to the business website
Improved brand awareness
The ability to monitor ad performance in real time
But, our experts predict that in 2022, there will be much more to PPC marketing than meets the eye – as there will likely be more hurdles to jump over. Privacy settings, for instance, are set to shift in the coming months. Then there's the potential of a cookie-less future. In search engines like Google Chrome, third-party cookies have already been discontinued – and although a cookie-less future is exciting for consumers as it will mean more security and privacy, for marketers it spells trouble. Previously available data used to optimise performance and target audiences will no longer be accessible. So, advertisers will need to adjust to new operational parameters to make sure their PPC campaigns are done right.
Another key change to be aware of in 2022 is that Google is stopping expanded search ads. Soon, only responsive search ads will be available. Smart Shopping will also become obsolete in 2022, set to be replaced by Performance Max campaigns. Performance Max utilizes automated and unified ad campaigns, allowing advertisers to place content across all areas of the Google ads interface. That includes YouTube, Maps, Gmail, Search, and more. This is set to be a major shift in the Google advertising dynamic.
Quick Note: How Performance Max Works
Marketers provide their advertising creative material, or simply just "creatives", and the Google system delivers the responsive ads across its channels. Based on your unique goals, you'll be able to place bids using the flexible Smart Bidding system. Next you'll set up locations, URL options and "asset groups" – Google's in-house term, essentially "ad groups". Finally you'll select audiences to set up the automated targeting, and add in your ad extensions. In-the-know advertisers have already started adapting their PPC ad groups to Performance Max to get ahead of the game.
Develop an effective PPC campaign in 5 simple steps
Step 1: Define your PPC marketing goals
The first step in how to do a PPC campaign is to clearly understand what your business goals are. Are you looking to drive traffic to your website, or raise brand awareness? Maybe it's all about lead generation, or ranking high on search engines? Think about what the objectives of your PPC campaign are, and this will help to determine your strategy.
Consider the various touch points consumers will have with your campaign, and how this will affect your business goals. The customer journey isn't a simple A-to-B anymore. For example, if your goal is to build brand awareness, you'll probably want to utilise image ads, as well as leverage social media ads relevant to your business. Think about where and when those messages will be most effective.
You also need to consider where your audiences are in the marketing funnel. For instance, are they in the awareness, consideration or conversion stage? This will impact your desired consumer action. Make a plan of your objectives in each stage of the process. This will help turbocharge your PPC campaign.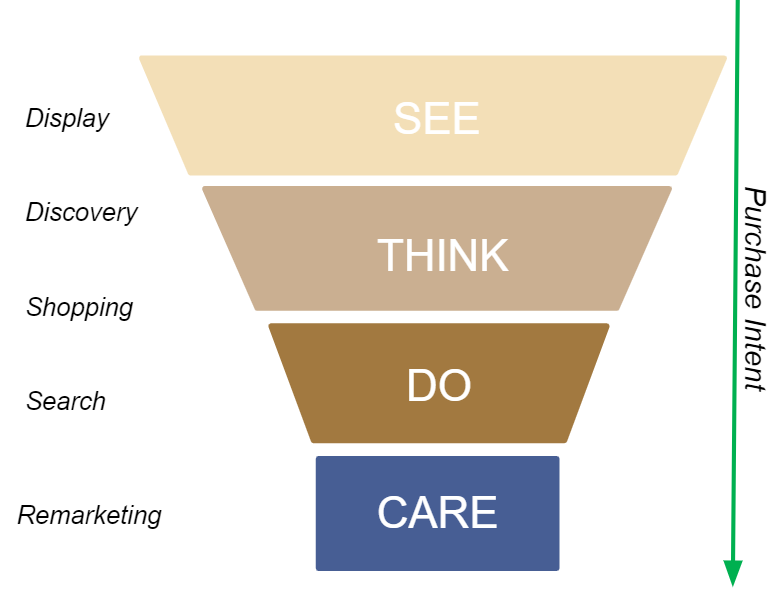 Step 2: Find your perfect attribution model
Tracking and monitoring your PPC ads is essential if you're hoping to see continued success and make the most of your ad spend. Without tracking, you won't be able to improve your campaigns or use smart bidding strategies for Google ads. So, by adding a conversion pixel to your Google ads account, you will be able to gain a deeper insight into how your PPC ads are performing. You'll even be able to identify your best-performing creatives. From there, you can make adjustments to PPC keywords, your relevant landing pages and ad placement strategies in order to set yourself up for better results.
Remember: never set campaigns to live unless you're sure they're working correctly. If the conversion tracking is faulty, you won't collect reliable data.
In marketing terms, last click or first click attribution is stone age technology. Review attribution models to see which one is the best fit for you and develop the optimal journey for your prospect. We recommend firstly focussing on collecting enough data to make informed decisions, which should take a lot of the guesswork out.
Another useful tip is to avoid basing your own Google ads optimisations on what other businesses may or may not be doing. The approach you choose will determine your customer's journey to purchase, and these journeys can differ greatly even between your business and main competitors. With so many factors to consider when it comes to Google ads (landing pages, ad copy, creatives, ad spend and so on, there is no room – and no reason – to replicate the same campaign twice).
Attribution is largely about viewing different keywords, ads and combinations of other factors from the right perspective. Performance that seems typical under pre-existing last click models could be very different when you evaluate those keywords and ads in a different context. Starting PPC advertising from scratch needs actionable data to learn from and leverage – the sooner you gather results, the sooner you can optimise your campaign success.
There are many attribution models available, and it's important to opt for the one that best fits your business goals.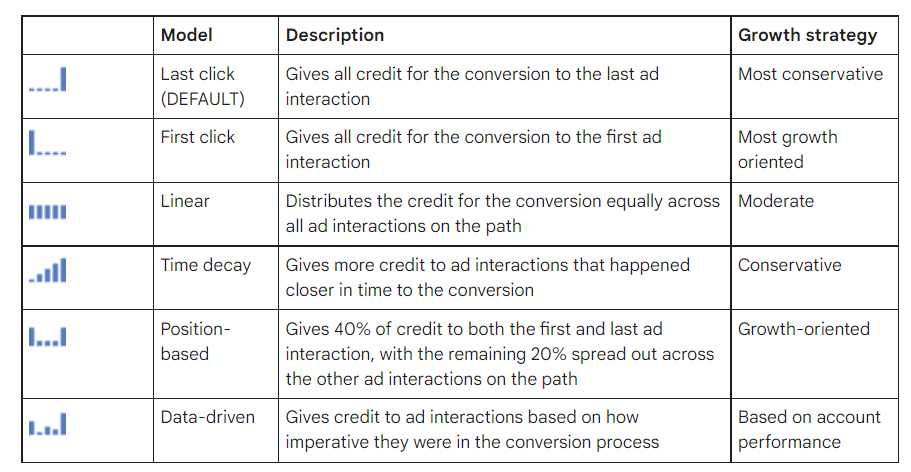 Step 3: Understand your ideal audience
Understanding your buyer persona's purchasing decisions will help you place your PPC ads in front of them in the right place, at the right time. Doing this will also allow you to gain other valuable marketing insights that you can use across supporting campaigns such as Search Engine Optimisation (SEO). Communicate with your audience better and you'll soon start to see the benefits for your brand engagement and awareness.
Start by trying to visualise your 'ideal buyer'. Thoroughly brainstorm them by jotting down their characteristics, interests and behaviour. Ask yourself and your team questions about their deepest needs, fears and desires. What do they do for work? How old are they? What do they love to do? Think about where they are, the way they move, and the spaces they occupy. This is the data that will tell you what you need to know about your audience's journey, and how they will experience your ad copy and PPC landing pages for the first time. Done right, persona mapping can help you attract your perfect audience, maximise your engagement, and encourage your prospects to take action.
Ensure your content is targeted. Ultimately, If viewers don't perceive your content as beneficial, in a way that really speaks to them, they won't take the desired action. That's bad news for you as a PPC marketer. It has a negative knock-on effect for your budget, engagement, and bottom-line success.
Step 4: Deliver high-quality and consistent content
When crafting PPC strategies it's important to consider your creative ads in terms of how they appear on multiple different platforms. Presentation is key. Content that you create for a Google Display Network (GDN) campaign may look completely different to what you use for search campaigns, for example.
Another important aspect of your creatives is the ad copy. This should be well-executed and stick tightly to your brand voice. You can choose from thousands of PPC keywords that relate to your brand and service offering, and add negative keywords so that your targeting remains streamlined. As Google states, "one key to a highly targeted campaign is choosing what not to target" – this is where your negative keywords can come in.
In each of your PPC ad groups, you'll also want to think carefully about your headlines and how you are going to grab your audience, as well as the user path initiated by your CTA. Do you want users to sign up, learn more, or shop? What is the landing page they will be visiting after clicking on your ad? This, of course, depends on your overall campaign objectives.
The general rule of thumb for an effective PPC campaign is to ensure your copy is:
Engaging, motivating and attractive
Peppered with the relevant keywords
Concise, yet descriptive and evocative
If you don't deliver creative quality and consistency, you risk forgetting about landing those business objectives we talked about earlier. So when it comes to drawing up your content, be sure that you and your marketing team are bringing your A-game.
Another useful tip is to test your creatives. Try different ad formats, and gather data from the engagements to see which types of ad perform. Observe and look into metrics such as traffic, bounce rate and click through rates, which all demonstrate how your audience is responding. Always A/B split test your creatives, and continue to track and monitor these results. We want people on landing pages. Give yourself as many combinations as possible to find your 'winning' PPC campaign.
Step 5: Be clear about your budget
Now we've got our marketing strategy set up, it's time to think about budget. Be honest about the level of monetary risk your business is willing or able to take. Although setting up a PPC marketing campaign will certainly deliver results if structured correctly, you'll always need to spend money upfront to kickstart your campaign. As many business owners will know, patience is key with ad spend. Prepare yourself not to see significant return on investment (ROI) immediately.
Even though it's tempting to start with a small budget, campaigns generally tend to perform better with higher budgets. since PPC advertising is quickly evolving and competition is fierce when it comes to keyword bids, you can actually lose more money when you spend less – so be smart about your spend.
Speak to one of our PPC experts about the different plans and options available for creating an outstanding PPC campaign. You don't need to remortgage your business property, but you will need to set aside a dedicated budget for your PPC campaign. After all, this is an investment.
How to make your PPC campaign go further
Learning how to create that winning PPC campaign is no mean feat. It's a journey, and there's a lot of information to take on. PPC is a multi-layered advertising machine with a lot of moving parts – it would be easy to get disoriented. Luckily for you, our Google ads pros are close at hand!
Here at The Brains, our award-winning PPC team can offer consultancy as well as hands-on assistance with both paid search and paid social advertising so that you can yield great results. If you're wondering how to do a PPC campaign, whether you're starting from scratch or not seeing results from your previous efforts, we can help. From setting up and developing brand-focussed creatives to monitoring, tracking and A/B testing your campaigns, we'll offer you constructive guidance every step of the way to ensure you achieve your business goals. Get in touch with The Brains today and start your PPC advertising journey with us!
Ready to schedule a free digital marketing consultation?