What is Google Analytics 4: Understanding Google's superpowered new website analytics platform
Calling all data nerds! Google Analytics 4 (GA4) has officially landed and is ready for integration, rendering the existing Universal Analytics (UA) obsolete in T-minus 12 months. But what is Google Analytics 4? Find out why GA4 is the natural successor to Universal Analytics, and how it helps you make more informed campaign decisions fuelled by reliable, cross-platform data insights.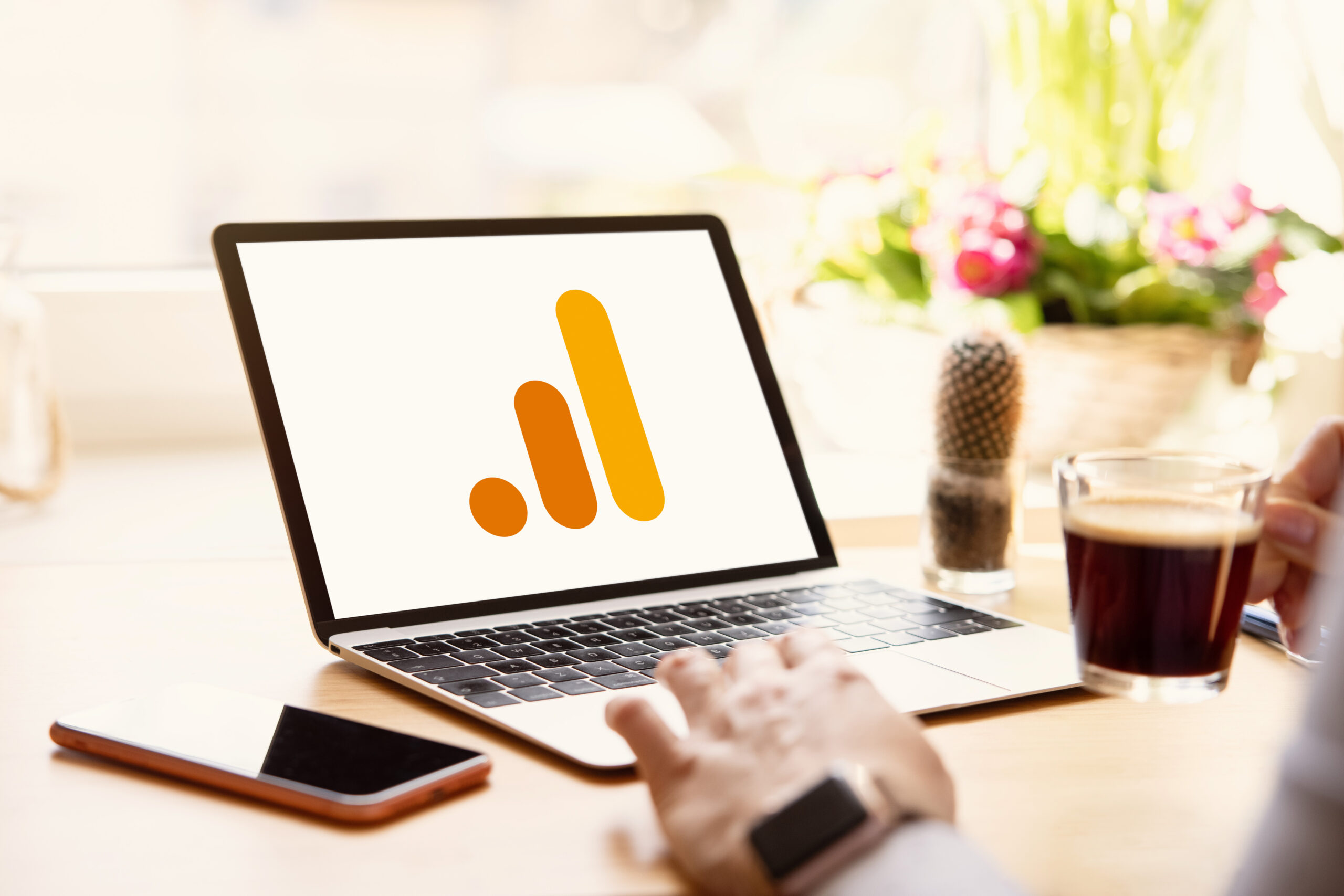 Wondering what Google Analytics 4 is, and what all the fuss is about? You're not alone. We've spoken to lots of our clients about the practicalities of moving from Universal Analytics to GA4, and whether it's worth the effort. Although GA4 is brimming with promise, the thought of switching to a new data platform might seem about as appealing as booking a summer holiday to Tatooine. 
We get it: change isn't the easiest thing to deal with, especially where Google is concerned. Google Analytics in all its forms can be fairly tricky to get your head around, and just as you think you've got it, Google will move the goalposts and introduce something new; in this case, GA4.
Whilst at the time of writing (June 2022) there's still a good 12 months to go until UA officially stops pulling data, it's a good idea to get yourself acquainted with GA4 now. The impending switch might seem daunting, but it's not as complicated as you might think and will actually end up being a valuable asset for your business, as our Brains are about to explain.  
What is Google Analytics 4?
If you've been using Google Analytics for a while, you'll know that GA4 is the fourth generation of Google Analytics, having been preceded by the faithful GA3, otherwise known as UA. The difference here is that GA4 is a completely new platform, meaning data from UA won't be pulled over once it's laid to rest.
UA was a great tool for collecting web and desktop data, but we live in a multi-platform world that is becoming increasingly cookie-less. It's simply not practical to be using several different tools to collect information across the web and apps, especially if the tools you use rely on cookies being enabled. GA4 tackles these issues and more.
Why is Google Analytics 4 important for your business?
Moving over to GA4 is less of a choice than it is a must. In simpler terms, if you don't move over soon, you will lose access to your historical data and you won't be able to pull any new website data from July 2023 onwards. 
Historical data is to businesses what the Infinity Stones are to Thanos. When you have a backlog of data to look back on, nothing seems impossible. You can confidently make campaign decisions that – in theory – should work, but with Google threatening to snatch all your insights away in a matter of mere months, it's understandable that you might be getting a bit panicky. 
This is why it's important to switch to GA4 before you lose access to all your data. But there are many other benefits that should figure as reasons for you to make the move sooner rather than later, as our Co-Founder Jonathan Lemer explains below.
"GA4 will take the smart marketer's campaigns to the next level, with unparalleled insights and data that's more joined up than ever before. Switching over as soon as possible will help you use your data to a competitive advantage, we highly recommend getting to grips with GA4 before your competitors do."
Jonathan Lemer, The Brains Co-Founder
What are the main benefits of Google Analytics 4?
With all the hassle associated with moving over to a brand new analytics platform, you'd hope to be getting some pretty major compensation for doing so. Luckily, GA4 is packed with cool features that should satisfy all your analytics needs, and then some. 
Integrated app and web data
There are a myriad of benefits you can enjoy when you implement GA4, but by and large the main one is the ability to track app and web data side by side. Previously, you would have to track your web data using UA and your mobile app data using Firebase. This left room for data blind spots, and given that mobile apps are set to generate in the region of $935 billion by 2023 (MindSea) when UA is officially decommissioned, these blind spots could prove to be costly to your business.
GA4 eliminates blind spots using roll-up reporting. You can easily see data from your website and your apps in one reporting view, something which wasn't as readily available through UA. In fact, to see roll-up reporting on UA required a lot of tagging and coding, or an expensive subscription to GA360. With the feature already being implemented as standard across GA4, you don't need to be a coding genius or haggle with your finance department for extra budget. 
Having multi-platform data available on one insights platform also allows you to better track the journey of your consumers by giving you a direct reporting overview, helping you to curate more tailored marketing campaigns that align with the behaviours of your consumers. 
What is GA4's enhanced privacy feature?
Another key benefit of GA4 is increased user privacy, with the new platform no longer storing IP addresses. Google knows that a lot of users are being more cautious regarding the data that is collected on them, so many people disable third-party cookies or install blockers that prevent websites that fail to give users the option to opt-out from appearing in search results. 
Up until now, third-party cookies were an essential weapon in every marketer's arsenal as they gave an accurate insight into consumer behaviour across the web, but privacy laws are changing, which means third-party cookies are essentially being phased out. From a marketing and advertising perspective, this isn't ideal because by tracking the sites that consumers frequently visit, recent purchases, and their unique interests, you can create specific and tailored ads that lead to a higher engagement and conversion rate. 
Third-party cookie blocking isn't new – in fact, Google is fairly late to the game. Apple and Mozilla have been doing something similar for years now, but given that Google Chrome has around 66% of the global desktop web share (Statista), the GA4 changes regarding cookies are going to have the biggest impact yet. 
Luckily, Google has thought about the pitfalls around disabling third-party cookies and has modelled GA4 around powerful AI and predictive algorithms. These predictive metrics are more reliable than any other GA platform and allow you to accurately see the next steps your consumers are likely to take without using third-party cookies. 
For example, the Churn Probability metric predicts how likely it is that recent visitors to your site or app will not return in the next week. Purchase Probability does the opposite and predicts what percentage of recent visitors to your app or website will go on to make a purchase in the next week. 
Machine predictive modelling
On top of this, GA4 is smarter than UA and gives users the option to opt-out of third-party cookies but opt-in to analytics, so you can still access key metrics without invading online privacy. For data nerds, this particular feature is the equivalent of the Armor of Invulnerability in Dungeons and Dragons – it's pretty damn legendary. 
These reliable insights are a complex mix of Google's refined algorithms and updated AI. GA4 really focuses on machine predictive modelling tools and the ability to build more reliable audiences, making it an invaluable platform for businesses, especially as we move into increased mobile app usage. 
Other key attributes of GA4 that are of note include:
Better tracking of the customer journey

More comprehensive analysis of user engagement 

Less reliance on cookie-driven data 

Easier event and goal setups 

Higher quality reporting visuals 

Increased parameters 
How do I get started with Google Analytics 4?
Getting your head around GA4 is one thing, but integrating it is where many people's fears lay. Luckily, it's not a Tomb of Horrors situation. If you're switching to GA4, you'll already have an Analytics account and will simply need to create a property. To do this, make sure you have an Editor role before you start. 
Add a new property

Give the new property a name. Select the time zone and currency you want to use for reporting

Choose the industry relevant to your business and select a business size

Create the property and accept the terms and conditions 

Choose a data stream of either iOS app, Android app, or web 

Add the analytics tag to pages on your website to begin collecting data (CMS-hosted website back-end, global site tag, or Google Tag Manager) 
It really is as simple as that. Once you've completed the above six steps, you can begin to track data. You may choose to do it alongside UA until you get used to the new reporting interface of GA4, but remember, when Google phases out UA in 2023, you won't have access to the historical data, so if you want to commence year-on-year reporting, it's recommended to get started with GA4 now. 
What training courses are there on using Google Analytics 4?
Analytics is pretty hardcore and it's not expected that you'll set up GA4 and be a whizz right away. Google has a library of resources about GA4 and how you can get to grips with it, but our Brainy Bunch can also help. We're experts in all things digital marketing and can help you to boost your online campaign efforts by better understanding the data you've harvested using GA4 (or UA, if you're still using that). 
If you want to talk through Google Analytics in more detail and learn more about how our Brains can help you supercharge your digital marketing and take it to the next level, book a free 30-minute marketing consultation today. 
If you want to talk through Google Analytics in more detail and learn more about how our Brains can help you supercharge your digital marketing and take it to the next level, book a free 30-minute marketing consultation today.
Who we are
The Brains is an award-winning digital marketing agency, consultancy and training provider in London.
Our Brains are experts in their field, helping companies grow faster, generate leads and overtake competitors.
What we do
Our Brains can help you with everything from ongoing marketing to training up your internal teams.
Give us a call to discuss your needs.
Ready to schedule a free digital marketing consultation?