TikTok influencer marketing strategies for 2022: How to use TikTok to help scale your business effectively
Interested in learning the latest TikTok social media marketing strategies? Attempting to curate a successful social media marketing strategy in 2022 without utilising TikTok influencer marketing is like trying to catch a Gen III Latios without a Master Pokeball: it's not impossible, but it's pretty darn difficult. Whether you're a fan or not, TikTok is quickly becoming the go-to online platform to scale up businesses, so if you're looking to get things off the ground and build momentum, you need to weave it into your social media strategy.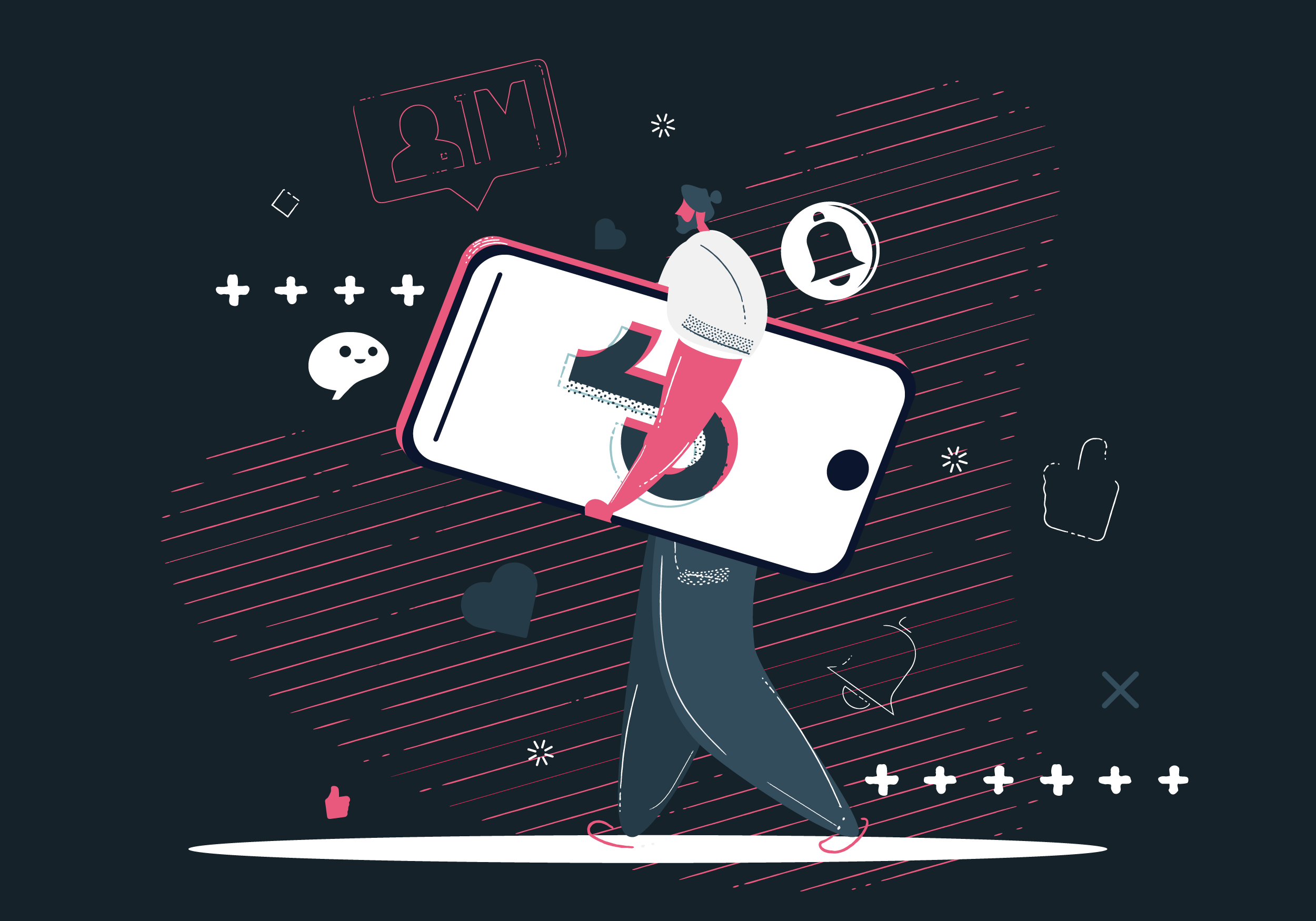 More than one billion people actively use TikTok every month (Wallaroo Media), making it one of the largest social media platforms in the world. In fact, it has been so successful that other platforms, like Instagram, have attempted to copy its format as a video-first network. Users love TikTok because it offers short snippets of content on just about any subject, but from a business perspective, it's a highly lucrative platform that can transform your business overnight.
Getting started on TikTok can seem daunting if you're unfamiliar with the platform or feel overwhelmed by its potential reach, but the pros most definitely outweigh the cons. To help you get started with TikTok social media marketing, our Brainy bunch have put together this handy guide you can reference when creating your shiny new marketing strategy.
The rise of TikTok influencer marketing
Influencer marketing is something that we've been living with since 2009. The term was coined after content creators like Zoella, PewDiePie, and Tanya Burr started to find fame on YouTube. The concept of influencer marketing mirrors celebrity endorsements, except influencers aren't people who find fame at the Box Office or on the Billboard charts – they become famous purely by chance, usually after one viral video.
Like YouTube, TikTok has given way to thousands of influencers, with the most popular including Addison Rae, Charli D'Amelio, Noah Beck, and Khaby Lame. You might be thinking these people are irrelevant to your business, but you'd be wrong.
TikTok influencers have managed to propel brands to stardom overnight through endorsements. For example, Aerie has struggled with stock issues since their crossover leggings first went viral in 2021. The same happened to Aritzia after their vegan leather trousers found fame on the app.
All it takes is one influencer to endorse your product (or an organic endorsement to go viral) and you could find yourself reaching brand awareness levels that would have otherwise taken years to hit.
Whilst Instagram reigns supreme in terms of influencer marketing, the unique algorithm of TikTok isn't far behind, with many influencers cleverly doing product placements in a way that doesn't feel forced, and many brands able to hop on viral trends whilst successfully marketing their adverts.
Is TikTok marketing worth it?
If you've been in marketing for a long time, you'll know that trends come and go, and sometimes, they may not be worth the effort to begin with. Take QR codes as an example. They peaked during the Covid-19 pandemic, when 83% of people reported using QR codes for transactions for the first time (Ivanti); but since the 2020-2021 period has been laid to rest, so has the mini resurgence of the QR code, and its use is in decline.
It was a brief candle, and implementation of QR codes is unlikely to achieve the heights it did during the pandemic. It'll be joining the marketing graveyard alongside pop-ups and banner ads as TikTok is set to overtake most other mediums. TikTok marketing may seem like it's emerged from nowhere and all of a sudden ended up at the top; but there's a reason for that, as our social media Brain, Farhiya, explains:
"TikTok accelerates brand growth and brand awareness, making it one of the most effective social media channels for new businesses. It's the perfect platform for user generated content and it drives content organically as part of its platform design."
Unlike other marketing techniques like PPC or organic SEO, the TikTok algorithm works in a way that gives every video a fair chance of going viral. As a marketer, you'll know that marketing is a mixture of careful planning, data analysis, and a little bit of luck. In theory, through TikTok, you have the last part nailed. Add to this the fact that you don't necessarily have to pay for marketing (influencer marketing may involve paying the influencer, but posting videos off your own back is completely free), and it's easy to take advantage of the endless interactive marketing opportunities TikTok offers.
Another core advantage TikTok offers over other brands is that you can shoot, edit, and add sounds to videos using just this platform alone. There's no need for other apps or software – making it an efficient and cost-effective choice. Plus, you can hop on viral trends and use them to your advantage to showcase your products, essentially making a free ad that isn't noticeably an ad. Users don't like being told what to do or what to buy, and TikTok gives you the opportunity to showcase your brand and your products without being too pushy.
"With TikTok having a predominately millennial/Gen Z audience, most users will not fall for certain marketing ploys. These audiences naturally value content that is authentic, real, and trustworthy, and that employs less invasive marketing techniques and gets straight to the point."
– Farhiya, The Brains Social Media Strategist
If you want to target late millennials and Gen Z audiences, TikTok is where you're most likely to find them, and where you're most likely to be able to engage and advertise to them without them turning off immediately. From a marketing perspective, this is the holy grail.
Getting started with TikTok advertising
If you're not familiar with TikTok, the good news is, it doesn't require a Sheldon Cooper IQ level (or all that much effort, either) to use TikTok social media marketing strategies to your advantage. To begin, you'll need to download the app from either the Apple App Store or the Google Play Store. Once you've done that, follow the below steps to set up a business account:
Go to your profile page and click the hamburger menu
Click 'Settings and privacy'
Click 'Account'
Click 'Manage account'
Click 'Account control' and then 'Switch to Business Account'
Go through the menu and choose the business category most relevant to your business
Even if you're not quite ready to implement a TikTok strategy just yet, setting up a profile is highly recommended. Despite the large number of users, it's still a relatively new platform for most businesses, so at the very least, creating a profile now will secure a username for future use.
Creating a TikTok influencer marketing and social media marketing strategy to help you scale your business
Once you have your profile created, it's time to look at making a strategy. There are a few different routes you can take for this, but first, you need to nail down your audience. Consider things like:
Age
Location
Gender (if applicable)
Income
Career
Buying motivations and concerns
Interests and frequently visited sites
Relationship status (if applicable)
You'll likely already have these pinned down, but remember that TikTok is a vast platform with lots of defined niches (e.g. London TikTok, bride TikTok, and goth TikTok), so try and find your niche first. Doing so will allow you to see who your platform competitors are, who is considered an influencer in the area you want to target, and what sort of content does well on TikTok for your audience.
Organic content
You'll need to come up with an organic strategy first. Consumers will want to see content on your profile to validate that you're a real brand, but also to get a glimpse into what you offer. You have the option to pin three videos to the top of your profile page, giving you the chance to answer FAQs, address buyer concerns, and divulge more information about your brand and have the information within easy reach for consumers.
Organic content can be anything you want it to be, but given the age of the average TikTok user and the fact that they're more attuned to ads, it's a good idea to focus your organic content around viral trends and current events. Duolingo is a prime example of a brand that curates excellent organic content that gains traction. They hop on current trends and create comedic content that is a hit, upping their brand awareness and making them seem more approachable and relatable.
Influencer/paid content
It's a good idea to factor in influencer marketing when making your strategy. Influencer marketing is, as mentioned, highly lucrative. A good example is the brand Peace Out Skincare. They partnered with an influencer in their industry and within 24 hours, their video had more than 12 million views, 2.4 million likes, and had earned them over $15,000 in sales (Shopify).
If you've got a new product to launch, influencer and paid content can form a fundamental part of your scaling strategy and grant you exposure you wouldn't otherwise get.
Customer service
Like any social media platform, TikTok is a place where consumers voice their concerns about products or brands. People are increasingly paying attention to how brands deal with public feedback, so make sure you focus some of your strategy on customer service.
Pro TikTok
Any type of marketing strategy needs to have some aspect of data analysis so you can see whether your campaign is working or not. TikTok has a feature called Pro TikTok. It's a type of account that is free to create, and it offers you analytical insights into your content and your audience. You can see data across the board for things like:
Follower counts over the last week or month
The number of views, likes, comments, shares, and playback time your content has
The source of your traffic
How many profile views you have
Key audience demographics
Content your audience is engaging with (sounds and videos)
Any of your trending videos
Hashtag views
Using this data, you can better define your strategy moving forward because you'll have a more reliable insight into what's working and what's not. You'll need to start making content first before you can access these metrics, but once you have a month or so's worth of data, it should be easier to create an effective strategy that will resonate with your audience.
TikTok tips and final thoughts
Once you have your strategy in place, there are a few key things to bear in mind. TikTok isn't like Instagram – it's not a platform for aesthetically-pleasing, heavily filtered content. Stay authentic and use a mobile phone to create the content. It's what the app was built for and it's what works best. Oftentimes, the videos that go viral are the uncut, raw ones.
Another tip is to keep your content short. Whilst you have the capability of doing three-minute videos, under 60 seconds works best for businesses.
Finally, consider going live every now and again. You could pack an order, talk through some company updates, do a tour of the office, or answer some questions people may have about your brand. Going live is a great way to interact with customers in real time, but remember to keep time zones in mind and pick a time and a day when more people are likely to tune in.
All in all, TikTok is a brilliant platform for growing businesses who want to increase their brand awareness and build connections with their customer base. Paired with other marketing strategies, you could see enhanced growth throughout 2022. Our Brainy bunch can help you with other aspects of your marketing campaign, including PPC, content, and SEO. Our expert social media Brains can even help you with maximising your output on channels other than TikTok.
To find out more about how The Brains can help you level up your business growth in 2022, book a free 30-minute consultation with us today.
Who we are
The Brains is an award-winning digital marketing agency, consultancy and training provider in London.
Our Brains are experts in their field, helping companies grow faster, generate leads and overtake competitors.
What we do
Our Brains can help you with everything from ongoing marketing to training up your internal teams.
Give us a call to discuss your needs.
Ready to schedule a free digital marketing consultation?