Google Ads A/B testing guide: How to A/B test Google Ads campaigns
In our Google Ads A/B testing guide, you'll learn how to accurately A/B test your Google Ads and improve campaign performance. PPC legend Mike Moodie details how to optimise your pay-per-click campaigns and get more from Google Ads, with effective A/B testing.
Effective A/B testing of your Google Ads campaigns is essential if you are hoping to optimise your ads and improve ROI. Without A/B testing, it's impossible to fine tune your Google Ads campaigns and identify the best copy, CTAs, offers, audiences and landing pages for your campaigns.
For more information about how The Brains design and optimise Google Ads campaigns to maximise ROI for clients, take a look at our Google Ads page.
What is Google Ads A/B Testing?
Put simply, Google Ads A/B testing is the process of dividing your audience into two (or sometimes more) different segments and testing different ad copy styles, landing pages or targeting on the second group. The first remains constant so that you can always have a consistent set of results to compare against. Testing in this way allows you to try multiple variations of copy to make sure that what you're putting out there can guarantee great results for your business. 
At The Brains, we believe that Google Ads A/B testing is key when ensuring the success of ads campaigns. In fact, the same principles apply across other marketing channels. You would always review your SEO content with both an expert in optimisation and an editor, so when it comes to PPC copy, different variations need to be tested out by experts to ensure optimal results. Over time, you might notice certain variations or keywords are performing better than others, and you'll be able to develop a better understanding of what Google is actually looking for. As soon as you've mastered A/B testing, your ad variations become more and more powerful. You'll benefit from far greater clarity on which keywords, ad variations and messaging works best for your target audiences.
How do I A/B test my Google Ads?
Whether you're choosing to partner with a PPC agency or test your ads in-house, chances are you will use Google Analytics to get started. Once you have an account set up, research completed and data inputted, the next step is to set up a campaign experiment.
Google Ads campaign experiments – 3 simple steps
1. Decide what to A/B test about your Google Ads
Will it be the title, headlines, target groups, landing pages or the display URL? Whatever you choose to A/B test about your Google Ads, you will begin by creating a number of different versions of your ad based on what you are testing. From there, you can set up an experiment in your Google Ads account. You'll need to choose a start and end date, a name for the experiment and set a budget.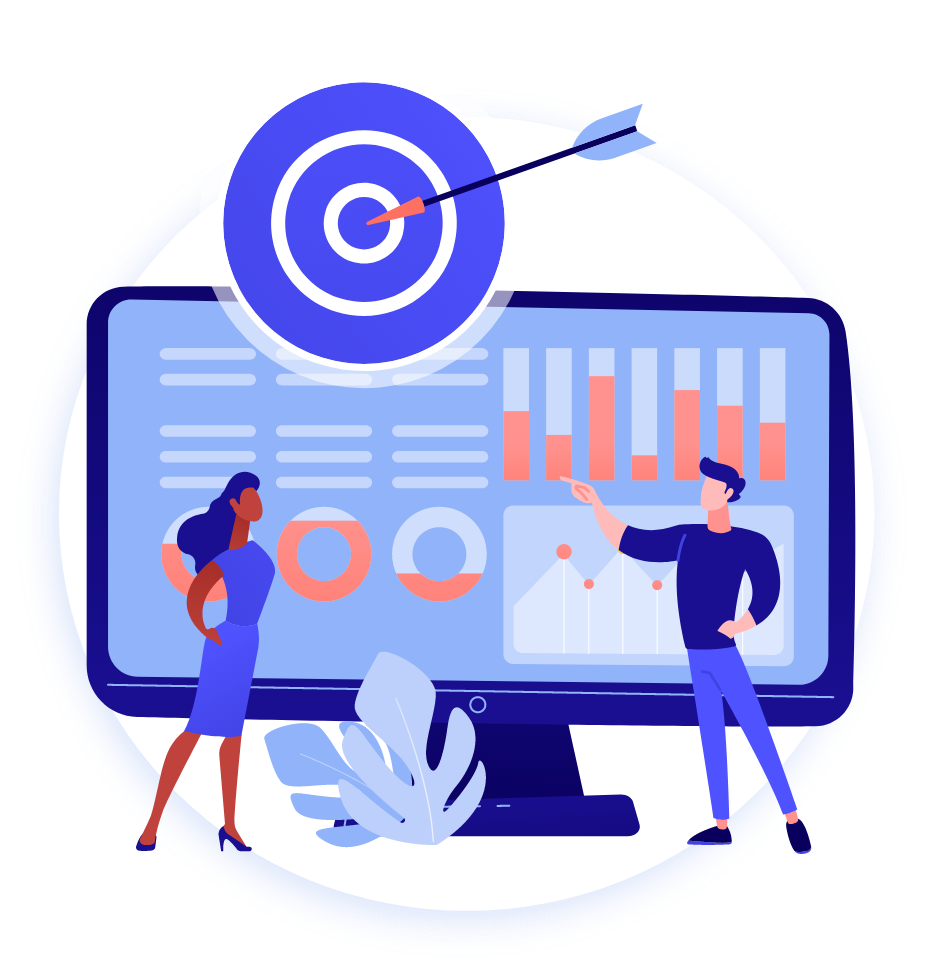 2. Choose how you'll split your Google Ads experiment
Next you will decide whether your Google Ads campaign is going to be cookie-based or search-based. If you choose cookie-based, users will see just one version of your Google Ads campaign no matter many times they search. With search-based, it is randomly assigned, meaning that if a user were to search multiple times, it's possible they may see both your experiment and your original campaign. The best option for you will depend on what you're testing.
3. Save and review the results of each A/B test in your Google Ads account
Once your main campaign and experimental version are both saved and running, you may wish to change how often and where your ads appear depending on your findings. Google will be able to display the click-through-rate, cost-per-conversion and the average cost-per-click among other data insights, so before long you will have a well-rounded view of how your ads are performing – and how you can help them perform better.
Why you need multiple ad variations within your Google Ads account
The whole point of A/B testing your Google Ads campaigns, is to find out which specific target group, tone of voice, key term, landing page or call to action performs the very best and delivers you the highest quality leads. Without a number of variations to test, you will not see significant results, and probably won't be able to make any notable changes to your ads based on findings.
A PPC agency like The Brains can conduct research on your behalf to find the most valuable keywords for your main target groups, and our content teams can craft various sets of ad copy depending on what you are testing. Having agency expertise on your side is crucial if you're keen to see results, stay within your budget and still develop an understanding of what works best for your site in terms of Google Ads.
Choosing useful Google Ads testing tools
So, you have your campaign, target audience, budget and keywords all planned out – now it's time to (literally) put your PPC strategy to the test! While you can of course look at the data yourself and figure out ways to display it to give you a clear overview, nowadays there are much easier ways available that can save you time, money and other resources.
There are a great number of free Google Ads A/B testing tools out there, but the most important one to utilise effectively is Google's own A/B Ads testing tool within Google Analytics. This tool is invaluable for PPC campaign managers, as it gives you a clear overview of your strengths and weaknesses when it comes to PPC. You may also want to look into using one of the following supplementary for A/B testing or general conversion rate optimisation:
How to interpret Google Ads A/B test results
Unfortunately, in PPC there is always some uncertainty as to how well specific ad variations will perform, and no matter how many Google Ads A/B tests you conduct, the amount of conversions you can expect will never be an exact science. We suggest that before starting any Google Ads A/B tests, you conduct a thorough audit of your site, and also test any current campaigns that you have been running. This will at least give you a baseline if you don't have one already.
If you don't have a particularly statistical brain, it's always best to leave data interpretation and reporting to those who do it best. The Brains provides clients with month-by-month PPC reports that give them a clear overview of how the campaigns we're running for them are performing. We can also conduct site audits, keyword research and develop paid search strategies with your goals, brand vision and budget in mind.
The Brainy approach to Google Ads A/B Testing
We've had years of experience creating ROI-focused PPC Google Ads campaigns for our clients. Through best practice A/B testing and copy creation, our data analysts and PPC management teams have been able to master the art of creating highly effective and profitable paid search campaigns.
Before we begin a new PPC campaign, we always make sure to develop a thorough understanding of our client's brand identity and overall business goals – this allows us to delve deep into the minds of target buyer personas, further enhancing our ability to create fantastic ads. With this approach, we can not only drive traffic and conversions through ads, but also optimise landing pages, work towards generating leads through SEO and even create and optimise useful blogs to improve your site's performance. For a deep dive into our agency ethos, you can explore this page.
Ready to start A/B testing your Google Ads with The Brains? Speak to an expert today!
Schedule your free initial consultation
Excited to get started with PPC ads and A/B testing? Contact our experts here at The Brains for top tips.
If you would like some complimentary advice, request a FREE consultation today!
Ready to schedule a free digital marketing consultation?